and what I am doing are 2 different things this morning.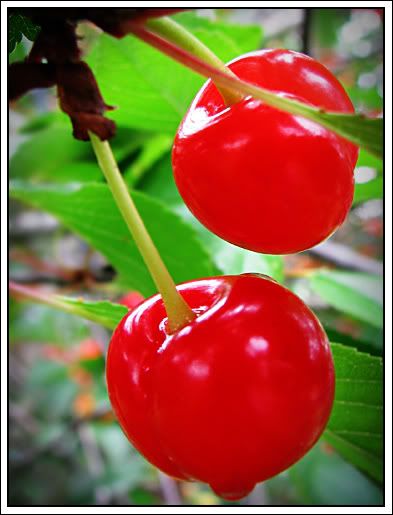 I should be packing. We leave for Florida Saturday morning for our first official, more-than-a-day-away vacation with the boys. They are so excited to be going to the beach for the first time. I should be cleaning my house so it's nice and tidy while were away. I have to work Thursday and Friday and we have a doctor's appointment tomorrow. I should be making a list of things I need to pick up to take with us but instead I have been outside, with my camera, playing. I did at least pretend to pull some weeds from the onion row in the garden, that counts for something, right?
While pulling those weeds, something bright red caught my eye. The Bing cherries are starting to ripen, looks like lots of canning again this year despite the broken limbs from the ice storm back in January.
You can see the effects of that in this post....
Ice Storm 09.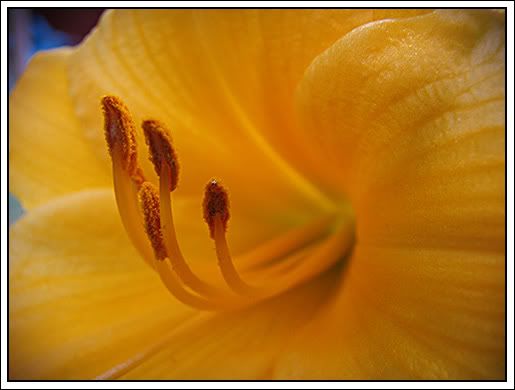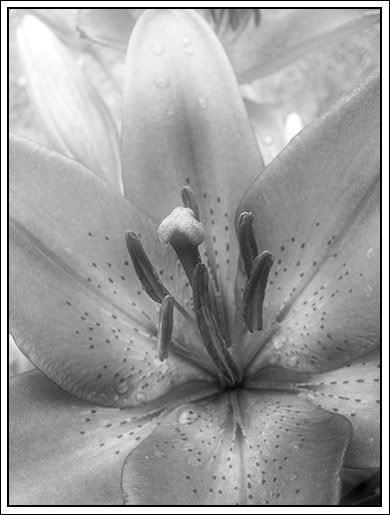 I continued my walk and found one of my Stella d'Ore lilies starting to bloom.
I love these creamy, buttery colored little lilies because they have such a long bloom cycle.
and then there are times when color just doesn't seem to go in a photo and this was one of those times.
This lily was originally a bright pink and no matter how hard I tried, the color just clashed with my eyes this morning so I tried this and found a soft, dreamy effect that made things just right.
I hope you enjoyed taking a walk with me, now who's coming over to help vacuum, pack bags, and figure out who that little bird is in
my previous post
??