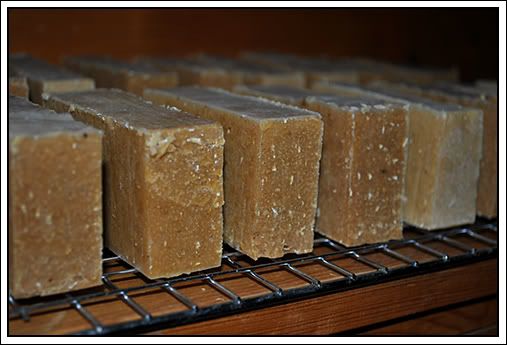 I made my first cold process goat milk soap a couple of days ago. It's a recipe of my own so I get to name it. I am calling it Grandma's Kitchen because the ingredients remind so much of being in my grandmothers kitchen helping her cook.

I used a lye calculator that lets you put in whole ounces for your fats and it measures the amount of lye and liquid you need. Here's the recipe I used:

Grandma's Kitchen Goat Milk Soap
8 ounces almond oil
10 ounces coconut oil
17 ounces lard
10 ounces olive oil
6.226 ounces lye
14.85 ounces goat milk
1 cup ground oatmeal
1/2 cup vanilla sugar
1/2 cup brown sugar
1 Tbs. honey
Vanilla beans scrapings from 1 vanilla bean (not sure what it's called. You cut the bean lengthwise and scrape the insides of a vanilla bean and add the tiny black seeds to the soap mix.)

You can add vanilla fragrance but I liked the smell the soap already had. A natural sugary vanilla smell.

I melted my oils together and removed it from the heat to let cool. I put on my gloves and goggles and headed to the front porch to mix my lye and icy slush goat's milk. Pour the lye into the frozen milk about a tsp at a time, mixing after each addition. Add your lye over about a ten minute period. The slower you go the less "yellow" your milk will turn. Set the container with lye into a larger container with ice to help cool it. When the oils and the lye mixture both reach the 90 to 110 degree range, they can be mixed.

Using a stick blender, mix until trace. Trace is when you can draw a line across the top of the soap mixture with you stick blender and it remains for a few seconds. It should be like a thick gravy or pudding. Add the remaining ingredients and mix just until blended. Pour soap into molds and wrap with towels. Let sit for 12 - 18 hours and unwrap. Make sure you use your gloves for this process until you have checked the pH of your soap and know that it is safe to touch. Wet a tiny spot on your soap, rub a bit and put your test strip in it. The reading on your pH strip should be between 7 and 10. Cut your soap and place it on a wire rack to dry/cure for about 4 weeks. I can't wait to try this one.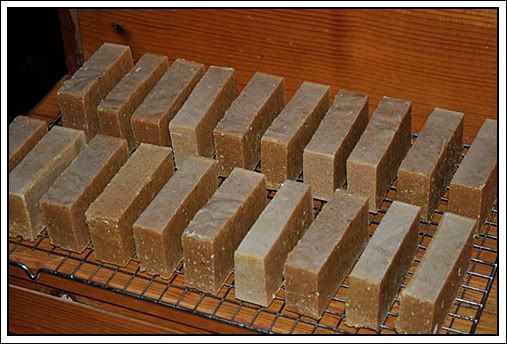 I purchased a soap cutter on eBay and it's fun and easy to use. I love my pretty soap bars! This recipe made 20 1-inch bars.

So now I can't decide if I like cold process or hot process better. Cold process makes a prettier soap but hot process is usable as soon as you make it and seemed to take a little less time to trace but only a few minutes difference. It's going to be hard to wait 4 weeks to try this one! For those of you making soap, which do you prefer??