Don't you just hate it when you bake cinnamon rolls and there is never enough of that ooey, gooey, delicious icing? I mean if you buy the store bought you get one itty bitty container stuck in the end of the roll! I like enough icing that it drips off my fingers while I'm eating my cinnamon rolls. I know I'm bad but it's so good!
Here's a quick little recipe to whip up just to make sure everyone gets plenty of icing. When we have Christmas breakfast at my mom and dad's I always take a squeeze bottle full of this for the cinnamon rolls.
1 box powdered sugar
1 stick butter, softened, not melted
1 tsp. vanilla flavoring
Milk
Using a blender to cream the sugar, butter and vanilla together, then add milk to the consistence of cinnamon roll icing.

Wanna know why I posted this recipe today?
Here's why! First I made this...
Monkey Bread by Pastor Ryan on Pioneer Woman's Blog
While that was baking, I mixed up some cinnamon roll icing with a little help from the boys. I did cut the powdered sugar contents down a bit because there was already so much sugar in the monkey bread. I figured that way the diabetic coma would only last a week instead of a month!
And the results were this monkey bread
and then this monkey bread with cinnamon roll icing and I added a big cup of coffee....yummmmmmm!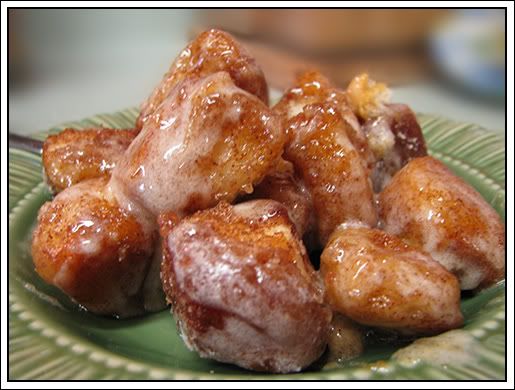 I definitely need about 100 laps at the track now or at the very least a nap!