When my husband asked me what I wanted to do for Mother's Day, I said "Go shopping!" He said "Where?" I said, "The Amish." So that's what we did today. We stopped by the feed mill first to pick up some chicken feed then we went to the Greenhouse and Bakery....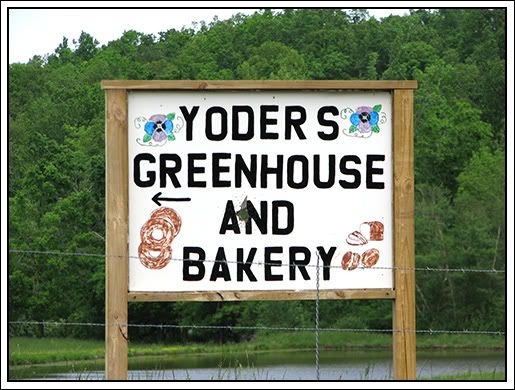 Apparently I wasn't the only one who wanted to go shopping here. The parking lot has cleared a lot in this pic but it as pretty busy.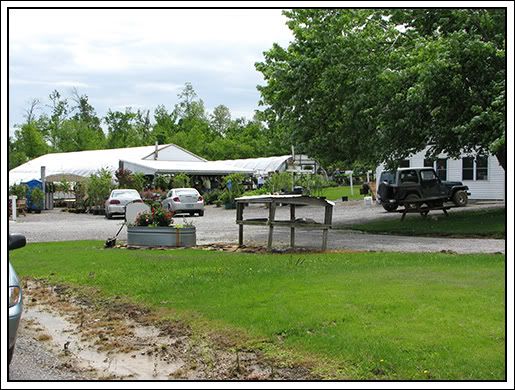 I picked out a couple of grapevines, a black raspberry bush and a red raspberry bush. I also got 2 deck railing planter boxes. This is the same greenhouse I bought my fruit trees from earlier in the spring. Then we went to the bakery and just opening the door was enough to make me gain 10 pounds. It smelled so wonderful! I didn't carry my camera inside but there was a table about 10 feet long covered in pies and cakes and donuts, yummmmmmm! I let the boys pick what we would get and we ended up with these...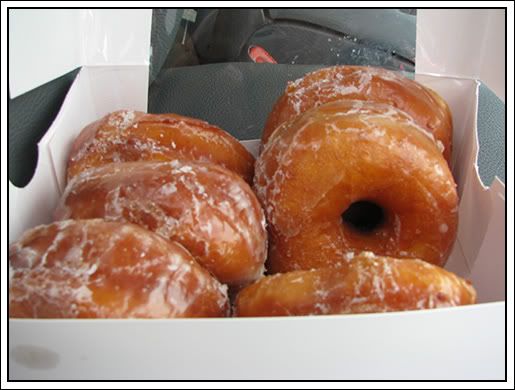 They were huge!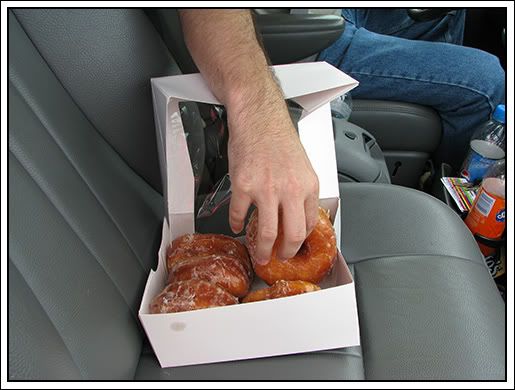 and delicious!!!!! (that's my Honey without a shave - hey it's the weekend!)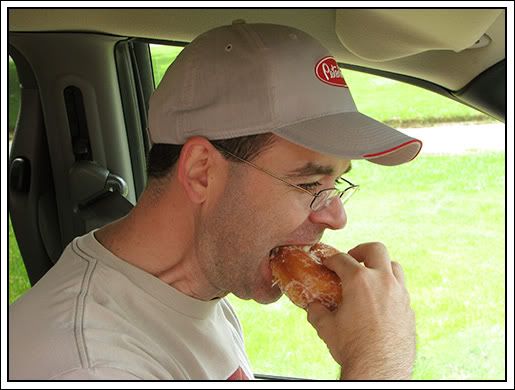 J said they were, "Tasty!" His new word for the day. I ate one too, but no, there's no picture!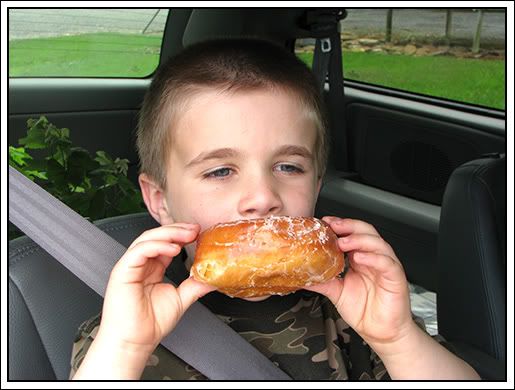 We decided to drive for awhile and stop at a few of the shops. We ended up at another greenhouse and I got a beautiful hanging basket of petunias (photo tomorrow, I promise!) and then at the rustic log furniture store I bought a bird feeder and I might just call back and have a custom rustic log bed made for our bedroom. It would look perfect in our log home and the price can't be beat!
I would have loved to take pics of the Amish men and women working or even the adorable little barefoot Amish boy sitting on top of a generator but we (visitors, patrons, customers, whatever we are) are not allowed to take photos of their faces or to have them pose for pictures. They feel that it is showing self pride and vanity to have one's photo taken. So instead of people, I snapped a few other things like Amish Britches hung out to dry in front of the outhouse!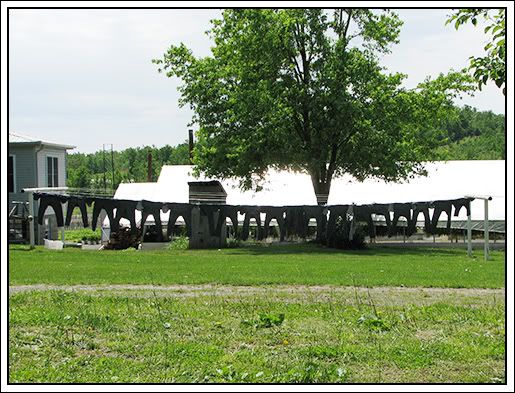 and Amish buggies...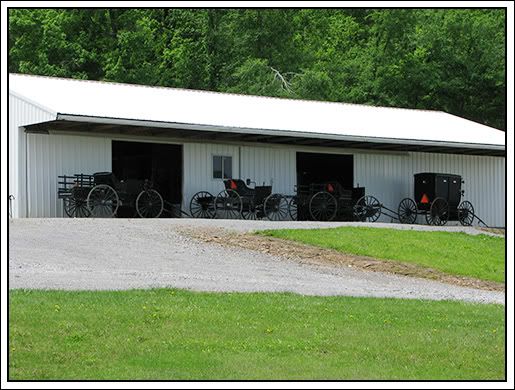 Then we drove on and saw this nice little lady lying in a field of flowers chewing her cud!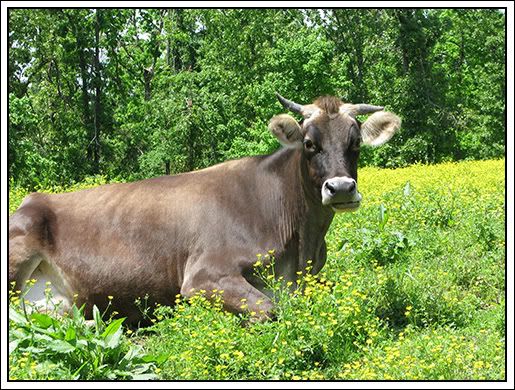 It was an absolutely beautiful day and I got lots of goodies! I also found a beautiful cedar trunk that would have followed me home if I hadn't already loaded the back of the van down with chicken feed, dog food, 3 huge hanging baskets of petunia (one for me, one for mom, and one for my grandmother) and vines. I have a birthday in June. I'm trying to decide if I want the trunk or a new camera (or both - hey I'm working now, right??)