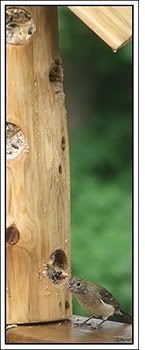 Now I consider myself pretty bird savvy. I have a bird book with numerous little tabs and scribbles inside with most of the pages marked off as "seen" but this little guy has me stumped.

I haven't gone all the way through my bird book yet but the I know I haven't seen him around here before. The blue throat is a new one on me. I knew someone had been visiting my new suet feeder that I got at the Amish Woodworking shop for Mother's day and today I caught the little nibbler.

Anyone know who my little visitor is? Could it be a female indigo bunting? I don't think they have the blue throat. I'm off to search the internet and my little bird book until I find out or someone tells me who this is.
First person to correctly identify this little fellow wins one of my cookbooks!