I know that living in the country is not for everyone, especially people like my mother-in-law but it's for me. It fits me perfectly. There's no other place I would rather "hang my hat", "put up my feet" or just plain "hunker down" at. I woke up this morning, poured a cup of coffee, kissed my husband bye when he left for work, peeked in at my sleeping boys, slipped on my Crocs and slipped out the front door still in nightgown...coffee in hand. I made my rounds past the garden that got watered yesterday. After about 3 weeks with no rain we decided to switch the county line over to the well line and run the sprinklers all night. Everything looks green and fresh this morning. Made my way passed the fruit trees, said good morning to the purple martins and found myself at the barn. Of course that meant feeding all the hungry critters. I love my morning walks. As I walked back from the barn, I thought about both of my grandmothers and how the love for farming, gardening, everything country was passed down through their generation to my mom and dad and then to me. My Dad's mom died when I was 10 and I lost my very best friend in the world. It was my first experience with the death of someone close to me and the memory of her passing still makes my heart ache but I have so many wonderful memories of her. I know she would be so proud of my boys. She would have them outside teaching them to churn butter, pluck chickens, can beets...all those things she taught me while I was tagging around hanging onto her dress tail. I remember when a favorite hen of mine got hit by a car...she made splints from Popsicle sticks and splinted her broken leg...she lived and laid many more eggs. She was every little girls dream of a good ole country Mamaw. My mom's says I got my love for animals from her. There are very few photos of my Dad's mom but my mother surprised me a few years ago with this 8 x 10 that I will always cherish....yes, that's me with my Mamaw!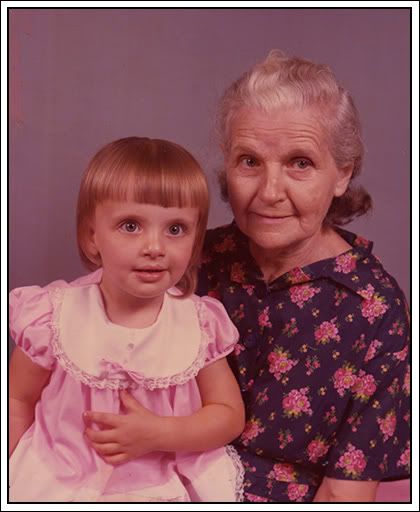 For those of you who have won my cookbook, you know the back story of my Mom's mother and her life with my grandfather. She is a wonderful woman. She lost my grandfather last October after 65 years of marriage. She misses him dearly but she knows he would have wanted her to continue to enjoy life and she's doing just that. My grandfather loved to fish and she was always right by his side. My mom took her fishing last weekend and she caught this 10lb. catfish. I am so blessed to still have her in my life and I think she is just one of the cutest little ladies at the age of 85 that I've ever seen holding a big ole catfish.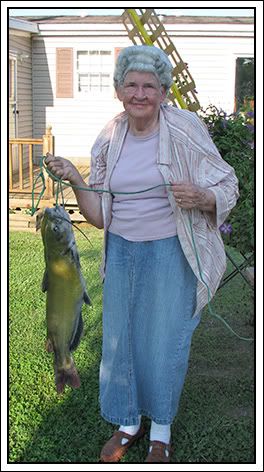 I am thankful for 2 grandmothers who have taught me so many things over the years.