The boys have worn out a battery powered 4-wheeler and as of yesterday morning were on the last legs of a battery powered Jeep and John Deere tractor. DH and I were so tired of hearing,
"Can you change my battery?"
"My battery is dead!"
"I'm stuck!"
"It won't go!"
and also the cry (the one where Luke just decides to cry loudly in frustration because his tractor is stuck and spinning in the wet grass) so we talked about it and decided that the boys needed....
THIS!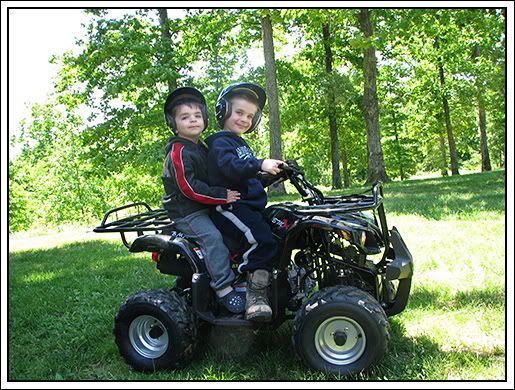 They have been riding for about 2 hours now and not a single scream or cry! Of course Jake already wants to get a little "too brave" and go faster but the 4-wheeler (quad, ATV) has a governor and a kill switch so it can only go as fast as we let it and we can kill the engine with a remote. Even with all this I might still get a few gray hairs. Are they really old enough for this already? J drives and L rides. They have their T-ball helmets on because I haven't had a chance to go get the 2 ATV helmets that my nephew Adam has outgrown. My babies are growing up!
Jake just keeps grinning and saying, "This real 4-wheeler is like a dream!" I think he's having a hard time believing it's really his!