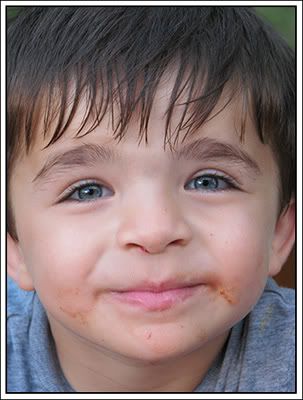 J, my oldest son is my photogenic child. He has always posed for the camera, sometimes to the point that I have had to beg him to tone it down a bit. Pics of him always turn out good, he has the perfect smile, eyes always open and so on. L, my other son, hated the camera until he was 2 years old and would scream his head off if he saw me point it at him. I have SD cards full of pics of him screaming, crying, with his eyes closed, rolled to the side, blurred, what I am trying to say is that when I get a good pic of him I am ecstatic and want to share it with the world, even if it does have a little pizza and watermelon involved. The boys were eating watermelon on the back deck after having pizza this afternoon and the light seemed to make their eyes look so bright blue....that means I run for the camera. I can always tell when I will get good pics by the way their eyes reflect the light. This time, for some odd reason, I got about a hundred pics of J that turned out blurred and closed-eyed, but I got these of my "hard to get a good pic of" little man.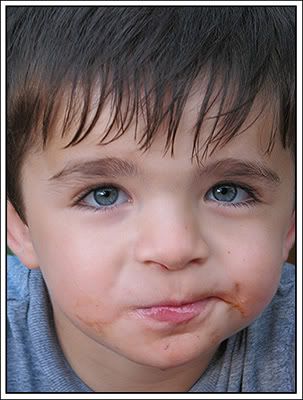 The first two are straight out of the camera...no editing, just a white frame added (keep in mind I'm not all that great at photography but I know when I get a pic of my boys that will be placed in a frame and hung on the wall or sat on a side table for me to glance at when they are gone to school or away at Papaw and Mammie's or down for a nap. I love those pics that make their faces look so sweet, innocent and kissable. Please look past the pizza sauce/watermelon and the scratched up nose (that came from a "brother-on-brother" wrestling match from the night before.
Those eyes......I fear that those eyes will cause me nights of lying awake in bed thinking of ways to keep all the girls away! He's mine gals, at least for a little longer!
I did some edge darkening on this last one.
So I will enjoy these for a year or so because it might be that long before he lets me get another good pic of him!