Remember the
large flower pot
that I got at a yard sale a few weeks ago? I thought I had made up my mind to turn it into a small fountain/pond for the deck BUT there has been a change of plans. I now have my very own little herb garden on the back deck!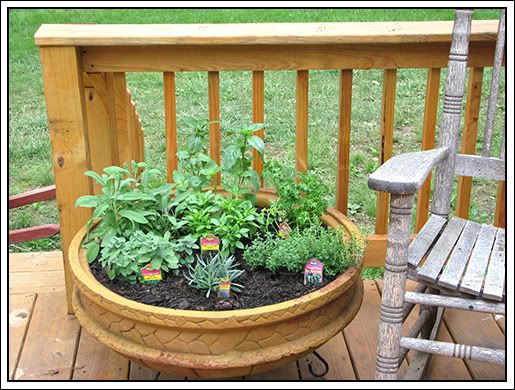 I have sage, lavender, basil, thyme, oregano, and parsley. I love to cook but I have never used fresh (straight from
my
herb garden) herbs so I am excited!
Did you notice the pic I added to the
pumpkin roll
post? To kick off my "food photos" introduction (and I'm not promising a pic with every recipe - just the ones I happen to be making at the time!) and Mother's Day, I will be giving away one of
my cookbooks
! I will post a thread tomorrow asking something about you and you get to answer! I will pick a random winner tomorrow night. So be watching for the post tomorrow!!! I'm excited about my very first "give away"!