That's where I've been this morning! I got lots of goodies. I got a huge clay pot for flowers to go on the back deck. It has a little pedestal to sit on. Now I just need to decide what to put in it. I'm thinking some sort of water feature but not sure yet. I got a few craft books and an old Land O Lakes butter serving tray, a new pair of Croc knock-offs still in the box. I have them on now because I have completely worn out my other pair.
Here's my pot....
J went with my mom and I, and he got a few things too. He got a new cowboy hat and a vacuum cleaner! Yep a vacuum cleaner. He loves to vacuum and he got a little red Dirt Devil. Check him out! Please ignore the fact that he doesn't have pants on. When he walks in the front door the pants disappear. It's like magic!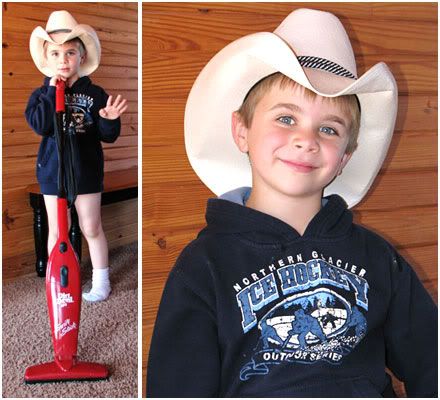 And one more of my big boy.....
I'll be back with a recipe after I get a cup of coffee!