Everywhere a chick, chick.....
Here's the 3 new babies. We're still waiting on some more trying to break their way out of the shell. I would break out just to enjoy this 83 degree weather we're having today!
The one in the middle hatched out at 1:44 this morning. I heard a very loud cheeping and hurried upstairs to check, and there he/she was, flopping all over the place, letting the world know of his/her arrival. I just took these 3 from the incubator so they could start drying.
Aren't they cute??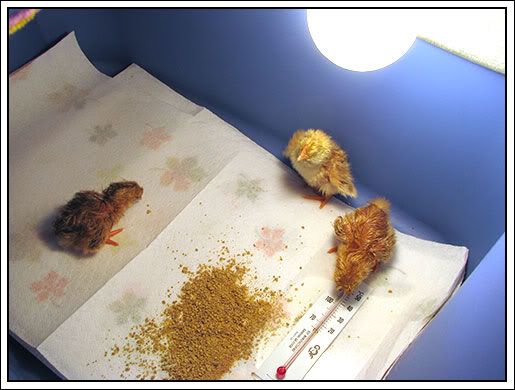 Then they did this and I almost had a heart attack before I remembered that babies need their sleep!!!
Then they were back up doing this again and the oldest one has started pecking at the food. I'm such a proud Momma and I love them already! Now if the rest of them would just hurry up!!
They are in my kitchen. Why you ask are they not in their big fancy brooder outside?? Because they are babies, and I just can't bear to stick them out there yet, at least not until all their siblings are here to join them. Plus, the boys get to see them while they are inside. They both got to peek in the incubator before they left for preschool this morning.