I went to the barn at dusk last night to check on the goats and close the chicken coop door. On my way back, I looked up and saw the moon, the big beautiful moon! I ran to the house as fast as I could, through the door, into the den, both boys and DH said,"What's wrong?" I said, "Nothing, moon, camera!" They said, "Oh." and went back to what they were doing.
I ran past the barn and into the back pasture where I took lots and lots of pics because the moon is a tricky thing. Hard to get that perfect clear focus plus I was using my teleconverter lens and no tripod.
I downloaded them this morning and picked out this one as one of my favorites.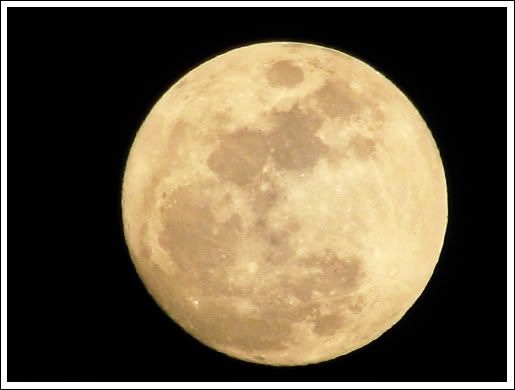 As I walked back to the house, I saw this view, but quickly realized that with my teleconverter lens in place, the lens housing was going to show, but I decided to shoot anyway, and I got this. This is the SOOC (Straight Out Of Camera Shot) and I love it. I love the darkness around the edges making my home, with my family inside, below my moon, in my sky, seem so cozy and inviting.