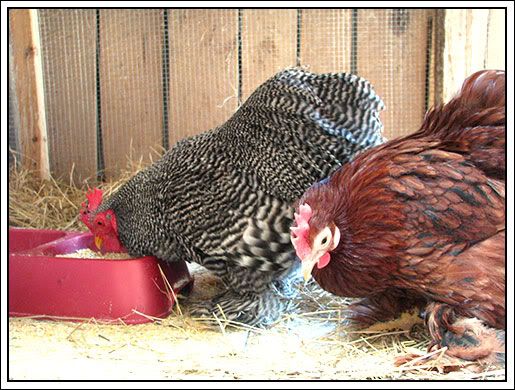 Bootsie and Stud are a pair of small Cochin chickens. They are a cute little couple who live in a large cage because the other larger chickens try to kill them when they are out. Bootsie went broody on me a few days ago so I set her on 8 guinea eggs. She's so little that she can only sit on 4 regular hen eggs or 8 small eggs like the ones she lays or guinea eggs. She's the red colored one. She got her name from her fuzzy legs and feet. She looks like she's wearing little boots.
A little history on Bootsie. I got her from a cousin and she was an instant pet. She loves to follow me around the yard like a little dog and if the boys scare her she will run to my feet and jump up and down wanting me to pick her up. She was the surrogate mother for my 6 baby guineas last year. She had raised 2 regular chicks who were larger than her at 2 months so I moved them to another area and gave her the new babies. She looked each baby over and then tucked them under her wings and took care of all of them until they were also bigger than she was.
And now Stud......hmmm, how do I describe Stud?......He thinks he's a stud! He struts around everywhere and before I got my bigger rooster, he "took care of" all the regular hens (or at least tried too - he was a lot smaller than the ladies).
I wanted you to meet Bootsie and Stud so we can wait on their babies together (shhhhhh, she does not care that they are guinea eggs, just as long as they are eggs, they are in her nest, and you don't bother them!)
Since we're talking critters, poor
Dirt Cat
came home hurt this afternoon. Something is wrong with his back leg (or legs). He tried to bite me when I touched his back half and that's not like him at all. We have a vet appointment at 8:00 in the morning. He's not happy about being caged up tonight but I'm afraid he'll bite or scratch the boys if they try to pick him up or that something outside will get to him while he's hurt.