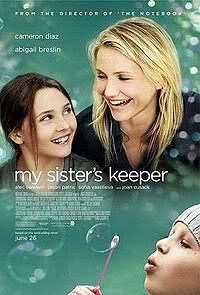 I have never cried so hard at the movies in my life. Right there in public...a blubbering idiot! But I was not alone. I was with 3 of my friends whose husbands refused to go see it with them and they were all crying just as much as I was. When (and if I can handle) watching this movie again it will be on my couch with an extra large box of tissues, a huge tub of ice cream and a warm and fuzzy blanket where no one can see my face afterwards!
Just the thought that so many adults and children are actually going through what Kate (
Sofia Vassilieva
) and her family portrayed in this movie brings me to tears again.
If you have seen
My Sister's Keeper
, leave a comment and tell me what you thought and if it broke your heart and made you run home and hold your children close to you as they fell asleep that night?