I wanted to name this little guy Sparky but I got out voted by 3 males in the family and he is now called Bottle Rocket, Rocket for short in honor of Independence Day...the day we found him literally "hanging out" on our barbed-wire fence (pronounced bob-war if you're from KY).
Apparently this little feller was zipping along night before last and hung his coattail on a barb and wrapped himself up all nice and pretty. While I was picking blackberries behind the house my husband was bush-hogging the fence row and yelled for me to come and look. On the fence, hiding his tiny face from the sunlight was Rocket,
the little brown bat
.
After determining that he had himself all wrapped up and wasn't just taking a nap, I ran to the house for my thick hunting gloves and proceeded to play hero (or heroine in this case). He wasn't happy with me and I am sure I broke a thousand bat laws and restrictions by touching, holding and saving this little guy but I wasn't going to leave him there to die! He was just too darn
ugly
cute!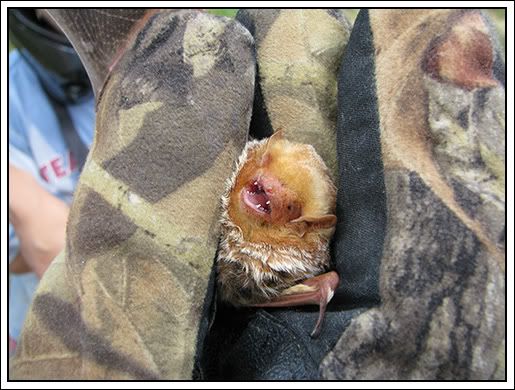 Look at those little fangs. He continuously stuck them into my glove. I'm glad I grabbed the thick ones. He had the tiniest little feet.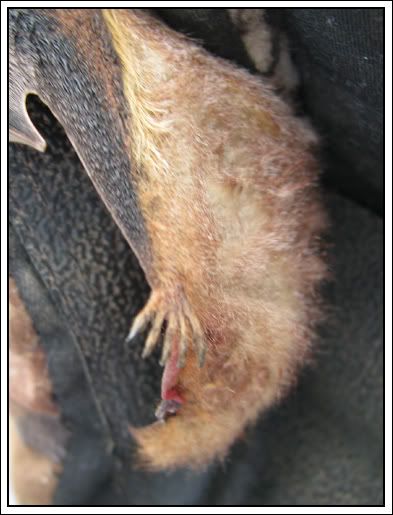 I see these little guy out zooming around each night catching bugs but this is the first time I have seen one up close.
We checked him over for injuries. He had one tiny little tear in the cape-like skin that stretches between his back legs where the barb went in but other than that he seemed fine. He was more than ready to fly away when I opened my hand.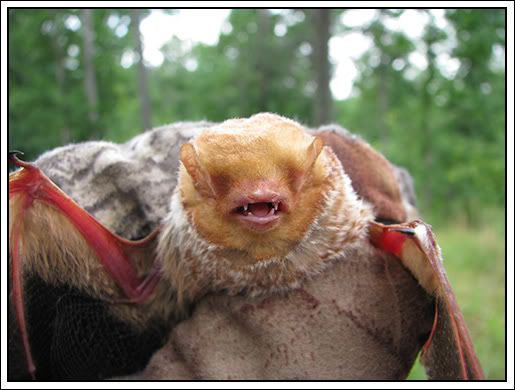 The boys thought he was wonderful and told everyone at church this morning how they had saved a bat. He was a pretty cool little guy and I'm glad we found him in time to save him. We have decided to put up a bat house now!