Where does the time go? I am so sorry that I haven't blogged in the last few days. Between my oldest being on Fall break, a goat getting mastitis and having to bottle feed one of the kids, work, 200 miles of yards sales Friday (which my sister and I just had to partake in of course) and the tech guy spending one of the days trying to finish getting my computer set up, it's been awhile!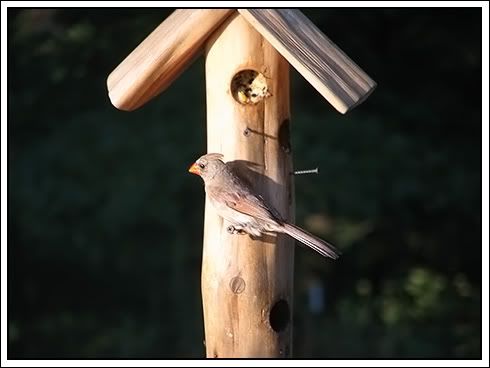 The weather has changed very quickly here and we are heading straight into Fall with cool night and the leaves starting to change. I wanted to share this suet recipe with everyone. I love feeding my birds and try to keep a variety of things out for them especially during the colder months when food is so hard to find.

This recipe is nice because it can be used year-round. I have kept it out on the hottest days of the summer and it only softens up a bit, has never melted into a mess and never sours. I tried a fruit one a while back (not thinking about the warmer temps) and had a stinky mess by the next morning so I will be saving that one for winter!

This recipe is under the This and That section of my cookbook and I have received several compliments on it. I don't remember if I got this from a magazine or if it's one I mixed and threw together. I won't take credit for inventing it but I will take credit for sharing it!

The nuthatches and titmice LOVE this as well as the woodpeckers and chickadees.

Suet Cakes
1 c. lard
1 1/2 c. crunchy peanut butter
1/3 c. sugar
2 c. quick cook oats
2 c. cornmeal
1 c. flour
1 c. mixed birdseed
1 c. cracked corn

Melt lard and peanut butter. Add sugar to the melted mix and stir well. Add oats, cornmeal, flour, birdseed and cracked corn. Mix well and pour into large cardboard orange juice cartons with the top cut off. Chill or freeze. Slice into blocks to fit into suet feeders. You can also stuff toilet paper rolls or paper towel rolls for easy slicing to fit into the suet feeders with round 1-inch holes.