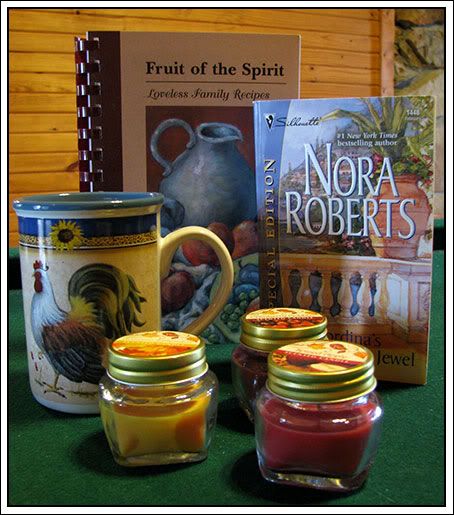 My boys have been sick with colds so I haven't been blogging in the last couple of days. What better way to redeem blogger slacking than to have a give away?
Both boys are better and back in Kindergarten and at the sitters so I am calling this the "Sit Back and Relax" Give Away!
It includes one of
my cookbooks
, a Nora Roberts romance novel (
Cordina's Crown Jewel
-it's not new, it's a hand-me-down), a rooster coffee mug and 3 little Fall scented candles.
You can put on an easy crockpot recipe from my cookbook, grab a cup of coffee or hot cocoa, light your candles and sit back, relax and read for awhile! That's my idea of relaxing, I just can't seem to find the time to actually do it!
All you have to do to enter is tell me what you do to relax when you can sneak a few minutes away from the hustle and bustle of life!
If you post about the giveaway on your blog, leave me an additional comment with a link to it and I'll give you another entry.
Give Away will end in 1 week October 29th at 9:00 a.m. Central time!