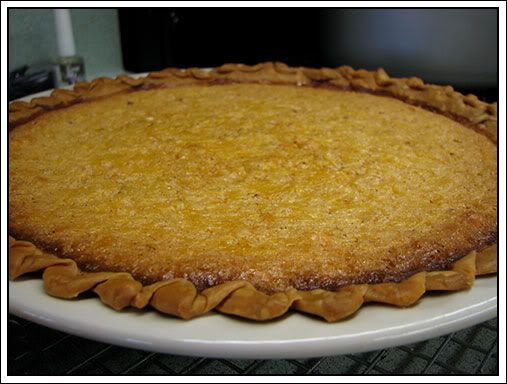 I made this pie from the pumpkin I was freezing a couple of days ago. I will be making more of these on Thanksgiving! They were so good!

I have to give credit where credit is due. After searching several pumpkin pie recipes I found this one from Paula Deen and once again she did not let me down. I've thrown in a few side notes of my own.
Pumpkin Pie
1 (8 oz.) pkg. cream cheese, softened
2 cups of canned pumpkin
(but please buy a pumpkin and
make your own
- it's so easy and it will make you feel so domesticated - you can brag that you made it from scratch using your own pumpkin).
1 cup sugar
1/4 tsp. salt
1 egg plus 2 egg yolks, slightly beaten
(thanks to my hens I've been freezing 3 to 4 eggs at a time in little freezer containers for the winter when they decide to be lazy)
1 cup half-and-half
(I didn't have half-and half - so I used goat's milk - I love having fresh goat's milk)
1/2 stick melted butter
1 tsp. vanilla extract
1/2 tsp ground cinnamon
1/4 tsp ginger, optional
1 piece pre-made pie dough
(I admit I used bought on this one but next time I promise to make
my homemade crust
).
Whipped cream for topping
(We prefer Cool-Whip!)
Preheat oven to 350 degrees F.
Place 1 piece of pie dough down in 9-inch pie pan and press down along the bottom and all sides. Tug, pinch and crimp your edges to get a pretty pattern. You can put your pie shell back in the freezer for 1 hour to harden back up or I already had mine cold in the fridge so I went ahead and used it right then. I am trying to use the Paula Deen instructions because it's her pie but I always change a few things when I'm baking! Line the pie shell with aluminum foil and fill with pie weights or dried beans (I used a microwave safe saucer to sit down in the pie shell and it worked just fine.) Bake for 10 minutes, remove foil and whatever you used to weigh it down and bake for another 10 minutes. This keeps the crust from getting all soggy.
For your filling, in large mixing bowl, beat cream cheese with a hand mixer. Add pumpkin and beat until combined. Add the sugar and salt, beat until combined. Add the eggs mixed with yolks, half-and-half and melted butter and beat until combined. Then add vanilla, cinnamon and ginger and beat until well blended.
Pour the filling into the warm crust and bake for 50 minutes (took mine a little longer) or until center is set. Place the pie on cooling rack and cool to room temperature. (I like my pumpkin pie cold so I let it sit for awhile to cool some and then put in refrigerator to finish cooling). Cut and top each piece with a big ole dollop of whipped cream or Cool-Whip topping and ENJOY!

This recipe is long and I think that tends to scare people away when they see a long recipe but it really is easy and the end result is awesome. I have shortened it a bit in the printed version. If you have access to pumpkins, try the homemade! If not, I bet the canned version is awesome too!



Speaking of two....well I doubled, made two and sent one to my mom and dad...they loved it!
Thank goodness I got pics of then because they were gone...fast!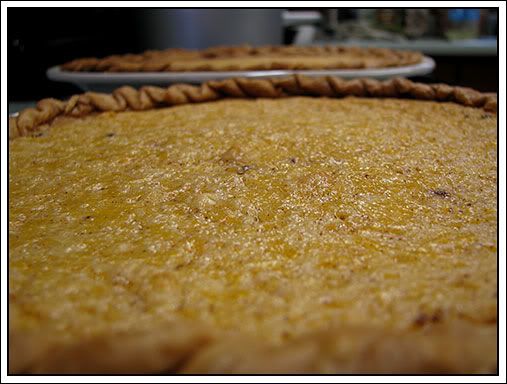 I love pretty pies all lined up on the counter cooling!