Fall just wouldn't be right without a pumpkin pie, pumpkin roll, pumpkin bread, fried pumpkin......I love pumpkin! We bought several pumpkins from an Amish patch last weekend. My mom and grandmother call these old hog pumpkins and say they make the best pies. I have never made any of the aforementioned recipes with anything but canned pumpkin bought from the store before but since I have started blogging, I'm, always looking for something new to try and blog about.

So here's my journey from pumpkin to freezer to pie!
Start with a large pumpkin. I'm sure any kind will work but I'm using the light orangish-yellow ones. Wash it well.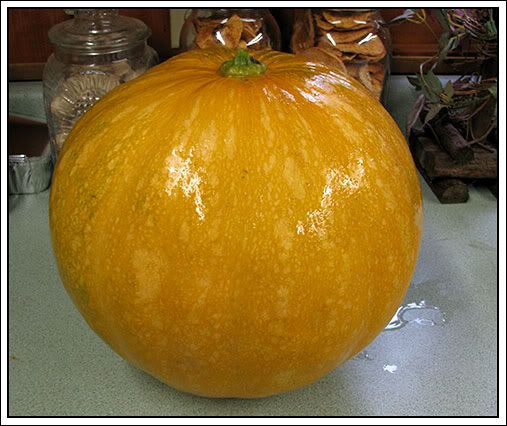 Cut in half crosswise and scrap out all the strings and seeds better known as "the guts" around here.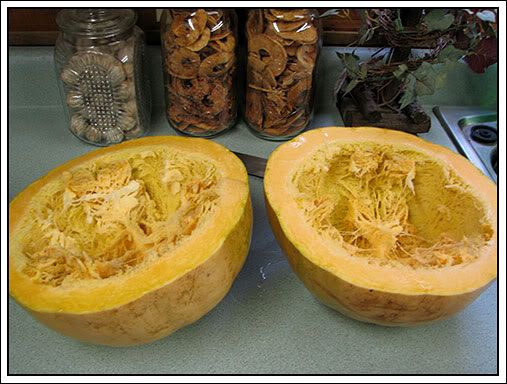 Lay the pumkpin shell up on a large cookie sheet/pan with sides because it will produce a lot of juice while it's baking. Bake at 350 degrees for approximately 1 hour or until the shell starts to collapse when pushed on.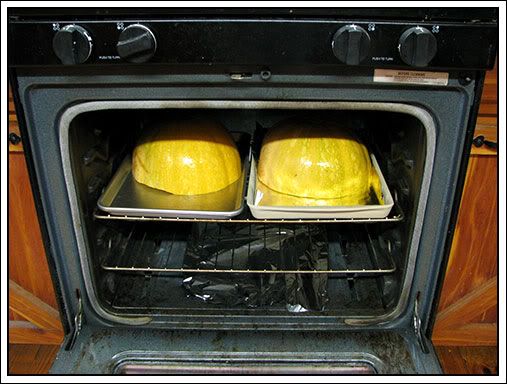 Remove from oven, invert on a strainer for an hour or so while cooling (thanks for that tip from Paul at Salt Creek Life) so your flesh will not have so much juice in it. Flip it over and the inside will be soft and juicy.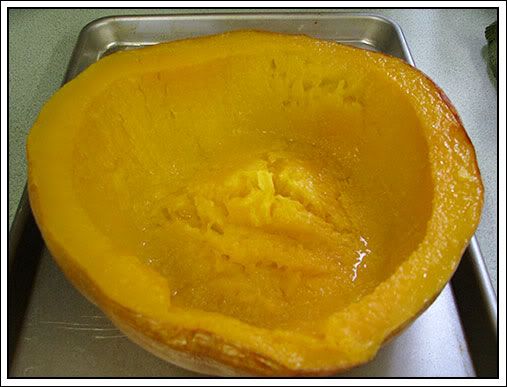 Scrape the inside of the pumpkin from the peel. I have found this very easy to do with a spatula to hold the peel and one of those pumpkin scrapers from the jack-o-lantern kits to scrape with. Larger pumpkins may have a bit stringier flesh. Just give it a quick mash with a potato masher after you have scraped it from the peel.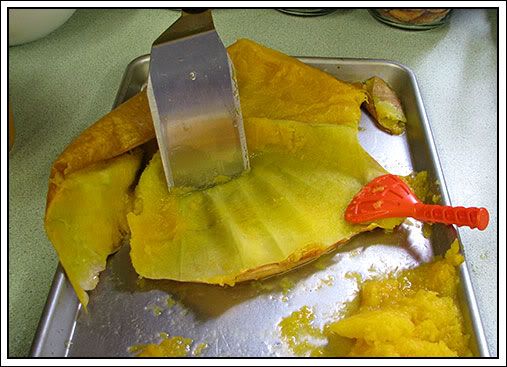 I got 10 cups of wonderful pumpkin from this medium-sized one.
Look at that beautiful color and my house smelled so good from just baking the pumpkin.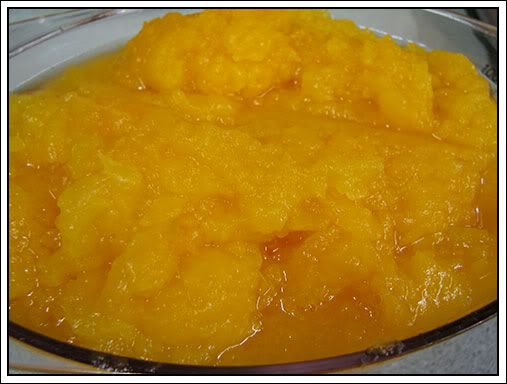 I used 4 cups of this to make pies and a put the rest in 2 cup amounts into freezer bags, let cool completely and placed in freezer.


I have 3 more larger pumpkins just like this one and plan to freeze them also. This is so easy to do and tomorrow......I'll share the pie I baked.......yum!!!!