I changed my mind about the soap and decided to go with making fudge! Forgive the awful pic. It doesn't do the beautiful fudge justice. I was under fluorescent lights and didn't get a good focus and then my batteries went dead and all the AA batteries had been used in the boys Leapsters, so this is the best I could do!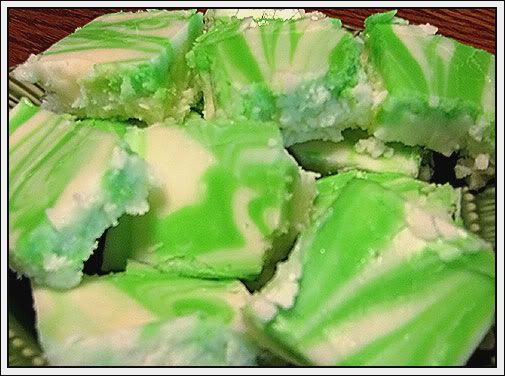 When my internet sisters were here visiting, we went to the chocolate factory and sampled and tasted and oooooo'd and ohhhh my'd over all kinds of fudge but my favorite from that day was keylime fudge! I made some peanut butter fudge using goats milk last Thursday and I would show you some pics but ummmmm, it's all gone already.
I made one batch with a previous recipe I had but it wasn't as good as what I had back in August so I decided to change a few things and here's the final "make your sister-in-law extremely jealous, she'll just have to have this recipe at the Christmas dinner" keylime fudge recipe. I say that because that's what my sister-in-law Ta' did to me with her dreamsickle fudge recipe. So, it's payback time of course! (Love ya, Ta'!) You can use evaporated milk but if you have goat's milk, PLEASE use it. I love the creamy richness it gives the fudge.
1 cup goats milk (or evaporated milk)
1 2/3 cups sugar
1/2 tsp salt
2 T. butter
12 marshmallows
2 cups white chocolate chips
2 tsp. lime extract (more if you like it really tart!)
Green food coloring
Mix milk, sugar, salt and butter in a large saucepan over med-high heat and bring to a boil. Continue boiling for 8 minutes stirring
constantly
or it will burn and stick. After 8 minutes, reduce heat to low and add marshmallows chocolate chips and lime extract. Turn off heat and stir until completely melted. Remove 1 cup of mixture and set aside, pour rest in a well-buttered 8 x 8 dish. Add green food coloring (a few drops) to 1 cup of mixture and stir. Pour on top of other fudge and use a butter knife to swirl it and give it a marbled effect. Place in refrigerator to cool. When hardened, cut into 1 inch pieces and ENJOY!

The first recipe I tried was with lime zest and lime juice. I just couldn't get that "keylime" tartness and I couldn't find extract in the store so I bought an 8 oz. bottle online and it's worth every penny I paid! I plan on making this and Ta's
dreamsickle fudge
(and maybe a few other kinds) and wrapping some up in cute boxes and giving them to the girls at the clinic for Christmas.