Back in April and May, we had a hen turkey that would come from in front of the house, around the pond, across the driveway and into the backyard to eat. I assumed she was sitting on her nest and would make this trip each morning and then head back. She finally decided to show up again yesterday. I watched her take the exact same path she took each morning before and end up at the feeders out back again. She brought some company along with her.
I'm not sure where the other one joined in at but she's getting her a little brunch as well. There are 2 hens and 4
poults
. I had no idea baby turkeys were called poults until I just looked it up. I assumed they were called chicks.
Awww, look at the babies!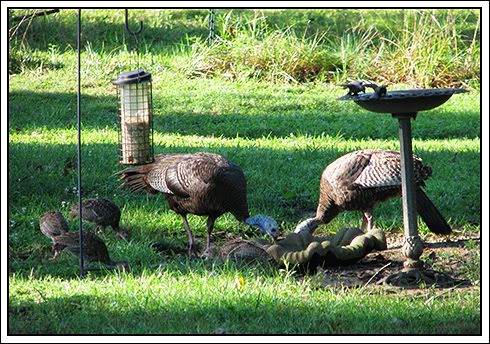 We also have a wild hen with an injured leg that eats with the chickens at the barn. She's a bit shy and hasn't let me get a pic of her yet.