one of those days...one of those perfect days that makes it feel like all is right in the world, well except for my two boys fighting over their bicycle in the backyard but hey that's normal right??!
I have my awesome friends coming to my house for their yearly get together at the end of this week and I am so excited to get to see them.
I have canned green beans and tomatoes this morning. I love using this little book. It's called
The Saturday Evening Post: Small Batch Canning and Freezing Cookbook
. It was published in 1978. The cover is torn and stained and I got it for 50 cents at a yard sale but I use it every time I can!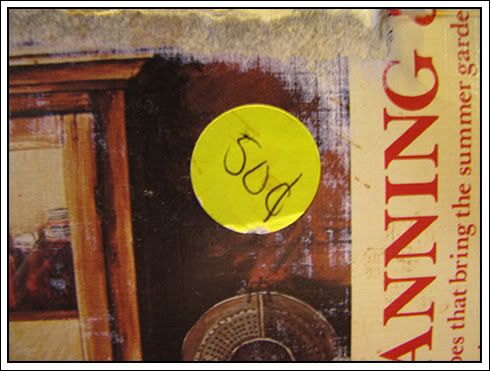 I have a load of laundry hanging on the line. I had forgotten how nice sun/wind dried clothes smell fresh from the line. Stuffing my face down in that first towel and taking a big whiff brought back memories of my childhood and the many baskets of clothes we hung on the line and then gathered and folded. There's a breeze blowing and the sun is shining but it's not horribly hot. I haven't even turned the air conditioner on today. Just opened the windows and let the sounds and smells of nature waft through the house.
We've gone a little
green
around here and decided to put up the clothes line, changed to low flow faucet heads and changed over to the new eco-friendly light bulbs. We have cut our electricity usage by 1/3 already. I have to admit, it's kinda fun finding ways to slow the old meter down plus the extra money we save is nice too!
I also have two loaves of
Grandmother Bread
rising on the counter! All is well in my little world!