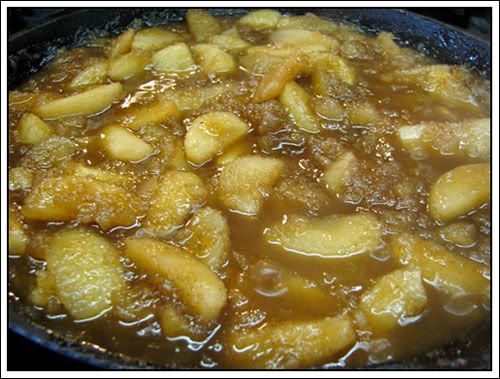 My boys have found a new favorite dish. Our apple tree is loaded this year so we've been canning and dehydrating. I decided to make some fried apples like my grandmother used to make and they were a huge hit around here. They are usually served as a side dish. We had them for supper the other night and then the boys wanted them for breakfast. They had leftovers with their toast Sunday morning.

8-10 apples
1/2 stick Butter (I prefer the taste of Country Crock instead of butter but both are good!)
1/4 c. Sugar
1/4 c. Brown sugar
1 tsp. Cinnamon

I didn't measure any of this just threw it all in so these are approximate. You can adjust it to your tastes.
Peel, core and slice your apples into about 1/2-inch slices. Place apples and 2 cups water in saucepan. Bring to boil, cover and cook for 1 to 2 minutes or until apples begin to get tender. Drain off water.
Put 1/2 stick butter (or margarine) in skillet. Add apples, sugar and brown sugar. You can use 1/2 cup of either of the sugars but I like to mix them.
If apples are very dry add 1/4 cup water). Turn down to simmer and let cook, stirring occasionally to prevent sticking/burning. Cook until apples are very tender but not falling apart. Remove from heat, sprinkle with cinnamon, stir just enough to blend cinnamon into apples and serve. I like to add an extra dollop of margarine to mine after they are cooked....I know I'm bad!

You can also roll out some dough (or store bought biscuits) fill with cooked apples, fold over and press edges with the tines of a fork to seal. Fry in skillet with a little hot oil or butter and you have awesome fried apple pies.