THIS CONTEST HAS ENDED: WINNER WILL BE ANNOUNCED SHORTLY!
Is it a sin to blog 3 times in one day? If so then I'm bad!
I am calling this my "Attitude of Gratitude" give away - thank you for the name
Oakie (Arlene)
- in honor of all I am thankful for plus I just like to give stuff away! It makes me feel good, so there's something in it for me too!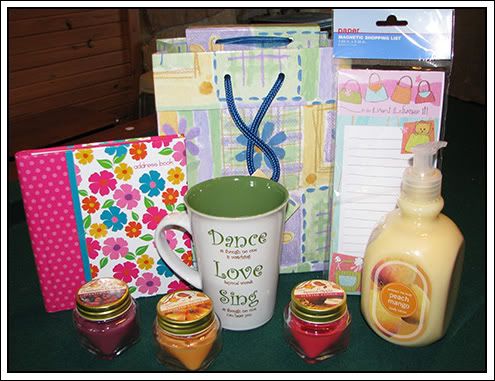 Here it is....a little bit of Summer and a little bit of Fall!
Shopping list, picture frame and album in a cute gift bag, an address book, 3 adorable little fall scented candles, some peach mango lotion and a dance, love and sing coffee mug!
Here's how to enter:
Tell me what you are thankful/grateful for!
Blog about it and get an extra entry, just leave me an additional comment with a link to the post mentioning the give away!
Contest will end a week from today, September 8 at 8:00 am Central time. Winner will be announced soon after.