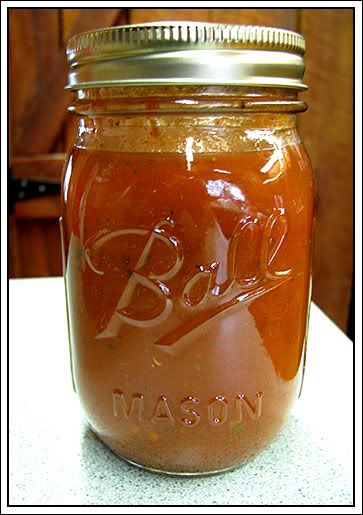 This post probably comes a little late for most of you since the tomato crop has come and gone (at least around here) but I thought I would share it anyway. It will be in the archives for next years canning season or if you canned tomatoes this year, you can use some of those to make it now.
I canned several jars of pizza sauce this year and the boys are loving the homemade pizza! I have been using
Suzanne McMinn's pizza crust recipe
. It's quick, easy and makes an awesome crust.
The sauce? Well, I cheated a little bit, but hey, if we love the taste and it's easy then I don't see a problem with it.
This made 12 pint jars of sauce.
I used:
1 bag of
Mrs. Wages Pizza Sauce mix
Home grown tomatoes, blanched, peeled and liquefied in the blender
A handful of basil leaves, finely chopped
A handful of oregano leaves, finely chopped
Self-rising flour
Work up your tomatoes and then add the sauce mix in a large saucepan. Add your extra basil and oregano. I find this sauce is thinner than I like for our pizzas so I slowly add a tablespoon or two of flour at a time, stir and continue doing this until it reached the thickness we like. Follow the directions on the pizza sauce package for how many tomatoes and the time for cooking. I would tell you but I used all my packages! Pour into clean, hot jars, adjust lids and bands and process in hot water bath for the time recommended by Mrs. Wages also makes an awesome salsa mix that I add a few things to (green peppers, jalapenos, spices, brown sugar, etc.) I have people come to my house just to take jars of my (and Mrs. Wages) salsa home with them.
So, if your in the mood to try your own pizza sauce...go for it. This is an easy one to start with. Maybe I'll branch out and try to invent my own some day....Kentucky Farm Girls Pizza Sauce hmmmmm, maybe I'll just stick with Mrs. Wages!
So make Suzanne's crust, slather on some of this sauce, lots of fresh veggies and pepperoni or whatever you like, mozzarella cheese (or better yet, goat cheese which we have been making, will post about that later.) We made pineapple and Canadian bacon pizzas a few nights ago and they were so good.
I look forward to having pizza this winter without having to drive 12 miles to get to the nearest pizza place!