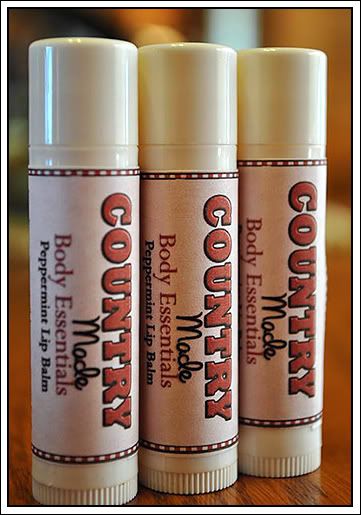 Oh my! The things that making soap leads to! On several of the soap recipe pages there were links for making lip balm. Well you know I had to click on one and I was lead into a world of flavors and oils and butters. This lead me to order a lip balm making kit from eBay and the rest is history. I'm hooked! I have already made peppermint, vanilla and cinnamon. I am ordering chocolate mint, bubble gum and cherry flavoring oils. I see a lot of people getting lip balm for Christmas! There are so many cute containers for lip balm that can be found a thousand different places online. Tubes, pots, tins. All shapes and sizes!

My favorite so far is the peppermint! The kit I ordered only had 1 oz. of beeswax and I was afraid of messing up so I split it and tried half the recipe just in case I messed up! Here's what I used.
Peppermint Lip Balm
1/2 oz. beeswax
2 oz. coconut oil
Oil from 1 vitamin E capsule (as a preservative)
Peppermint flavoring oil

Using a half pint or pint jar, sit it in a pan of water on the stove. An inch or so of water is fine as long as the jar does not float. Add your beeswax, coconut oil, and oil from vitamin E capsule (just poke a hole and squeeze it out). Don't let your water boil but keep it hot enough to melt the beeswax and oils. Remove the jar from the water when melted and add 4 drops of peppermint oil. Stir well (I used a Popsicle stick). Using a pipette, fill your tubes or pour into tins or pots. Careful, they fill faster than you think they will. I ran a couple over. If it starts to thicken before you get the tubes filled, just sit it back into the pan of water for a minute. If you don't use all the melted oil and wax, put a lid on your jar and save it for remelting later when you have more containers. Let tubes sit at least 20 minutes before moving so they have time to harden.
This recipe made 13 tubes.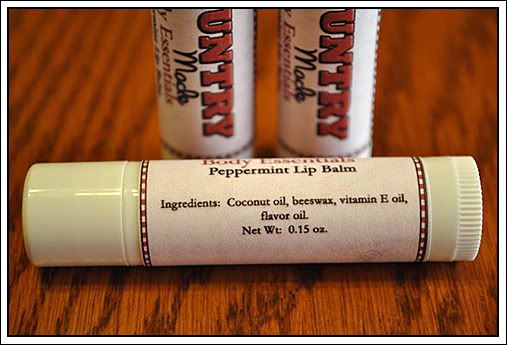 Cap and label! I made my labels using Photoshop.

These are so easy to do! You can substitute different oils. You can find lots of recipes online. My favorite so far is the peppermint.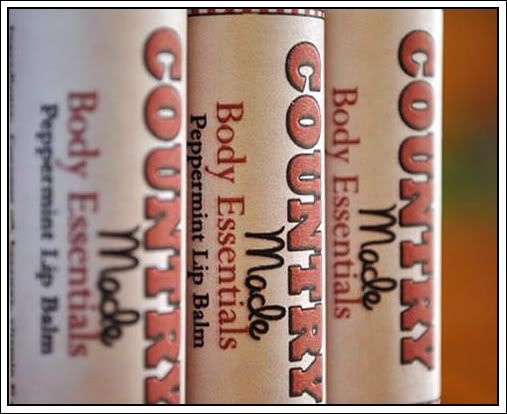 That makes 3 peppermint Country Made body essentials I have made now and I love them all. The scrub, the soap and now the lip balm. I think I might just need to have a peppermint give away! Check back soon!