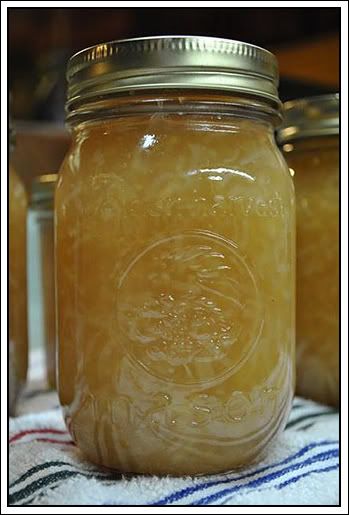 I posted the recipe for Pear Honey back in November of 2009 but thought I would share the canning process with you this year. If you do a search for pear honey, you will find many different recipes and variations. All of them sound good but my great grandmother canned this pear honey years ago when my mom was a little girl. My mom tracked down her recipe a couple of years ago and canned pear honey.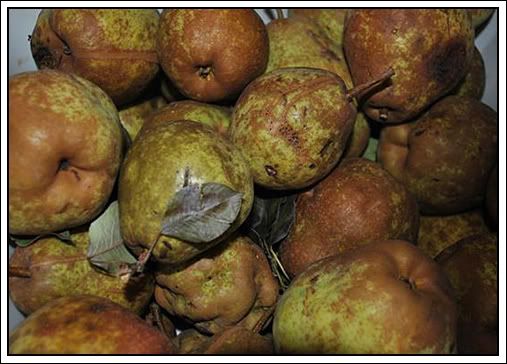 I received a bushel of pears from my aunt and uncle yesterday and I started working on them tonight by peeling and removing the seeds and any bruised spots. I chopped them in my little chopper gadget. I told my husband that a food process was on my Christmas list for this year.

Pear Honey
6 - 8 cups finely chopped pears
1 (20 oz.) can crushed pineapple
6 c. sugar
1 T. lemon juice
1/3 c. water
1 (14 oz.) bag shredded coconut (optional)
Put finely chopped pears in a large saucepan with lemon juice and water. Cook pears until tender. This could take anywhere from 10 minutes to 30 minutes depending on how soft and ripe your pears were to start with. Just cook them until they are mushy.


Add crushed pineapple, coconut and sugar. Mix well and cook until mixture thickens. This too could take a while but it will happen! Make sure to stir it often to keep it from sticking.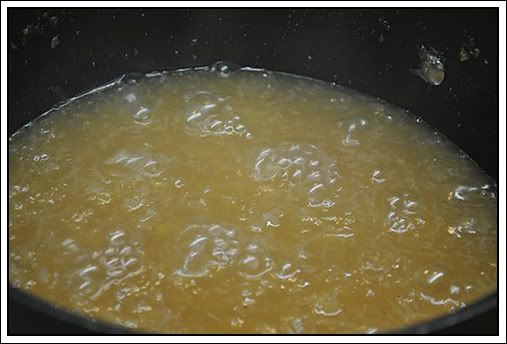 Here it is, thick and bubbly! This smells so good! I wish I could find a candle that smelled like this! Ladle pear honey into hot, sterilized jars. Add hot lids and bands. Process in a boiling water bath for 10 minutes.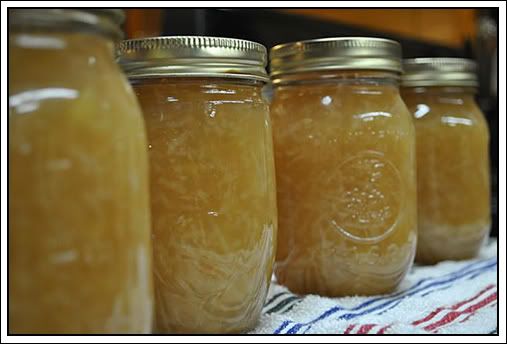 This batch made 7 1/2 pints. You can use this as a jam on toast or over hot biscuits. My boys like it over vanilla ice cream. Me...well I don't want to tell....okay....okay....I admit it, I eat it straight from the jar with a spoon! I can open one of those little jelly jars of this and eat a little and within a couple of days the whole jar is gone and I have no idea how it happened but I will tell you that it calls to me each time I pass the refrigerator. Try it, yours will disappear too!