A couple of different people have asked me to make a tutorial for cold process soap. First, I think I'm terrible at writing tutorials and second, I haven't been at this soaping thing for very long but...

Here goes...
I have tried a few different soap recipes and I have settled with this one for most of my soap making. Why? It leaves my skin soft, it lathers well, it has a light color that's nice for adding swirls of color or just leaving plain.

This makes a batch that fills my homemade mold.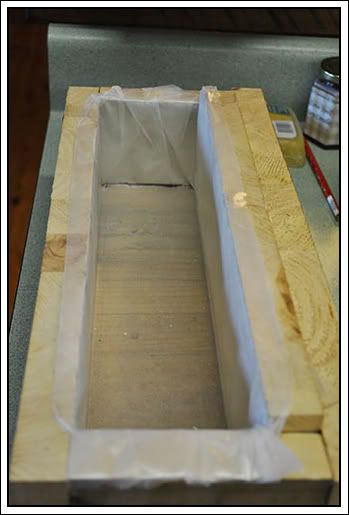 I'll weight this loaf when I take it out of the mold and see exactly how much it makes and update here.

Update: The soap has been unmolded and weighs in at 3.9999 pounds. So we'll just say this is a 4-pound soap recipe.

Materials: (make sure nothing is aluminum - aluminum and lye do not work well together)
Kitchen scales
Stick blender
1 large container
Container for mixing lye
Small disposable container for measuring lye
Goggles
Gloves
Any additives you want to use
Oils
Fragrance
Dyes
Sodium hydroxide (Lye)
Vinegar (for neutralizing spilled lye)
Soap Mold
Wax paper to line your mold
Towels
Spatulas/wooden spoons

Ingredients I use in my soap:
Canola oil - 10.4 ounces
Coconut oil - 10.4 ounces
Lard - 14 ounces
Crisco - 10.4 ounces
Lye (Sodium Hydroxide) - 6.242 ounces
Distilled water - 14.916 ounces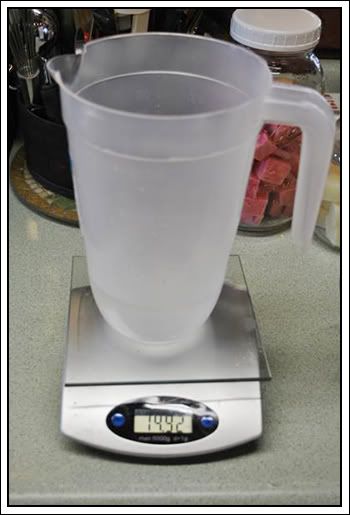 The first thing I do is measure my water in the container that I will be mixing the lye/water solution in.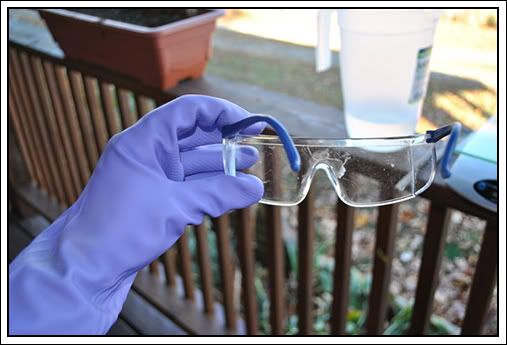 Then I put on my goggles and my gloves (please wear these!)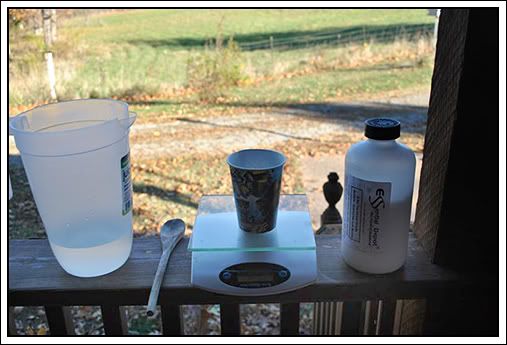 And take my lye mixing container (which contains my distilled water), lye, wooden spoon, scales and lye cup to the front porch. I do this because I have little ones and if I don't open the lye bottle inside then there's no chance of getting it on the counter or utensils that they might be using or handling.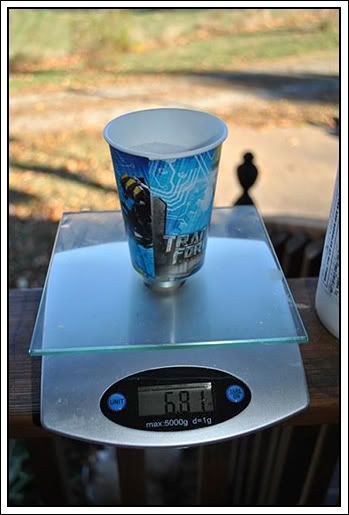 I pour my lye into a disposable cup for weighing.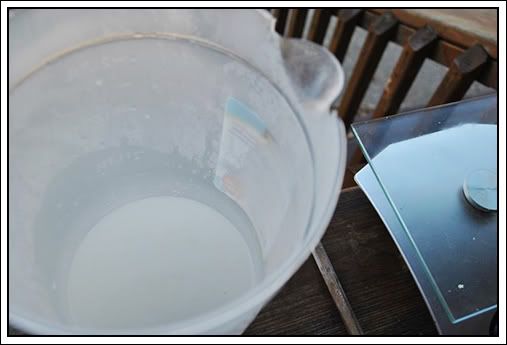 Pour your LYE INTO THE WATER - never the other way around and throw away the disposable cup.
This mixture will heat up fast. You will feel the heat from this through your glove and in 40 degree weather this morning I even got a little smoke! Leave this on the porch to start cooling.

Measure out all your solids and oils.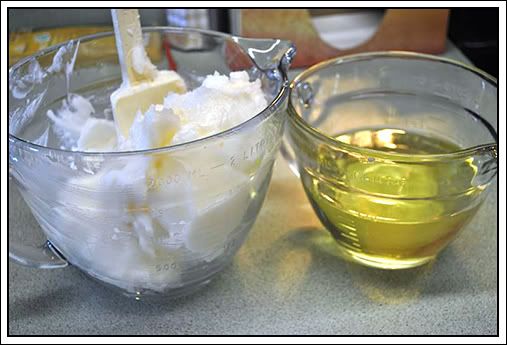 Melt your solids in the microwave, about 30 seconds at a time until all melted. Pour you liquids in with your warm melted solids. Make sure they are in a big enough bowl to add your lye water and mix with your stick blender.

Check the temp on your lye solution.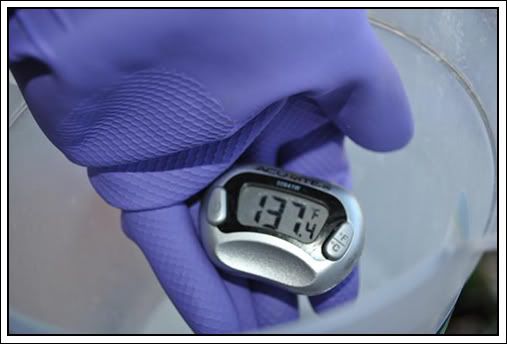 You want it around 100 - 110 degrees. Mine's still way too warm. I am ready for this now so to speed things up, I took a large bowl and put ice and some water in it then sat the pitcher down into the ice. Make sure not to get the ice or water in the pitcher just use it as a ice bath to cool your lye from the outside. This took about 5 minutes to cool it down to 102.
You want your oils inside to be between 90 and 110. Mine were at 101 so here we go!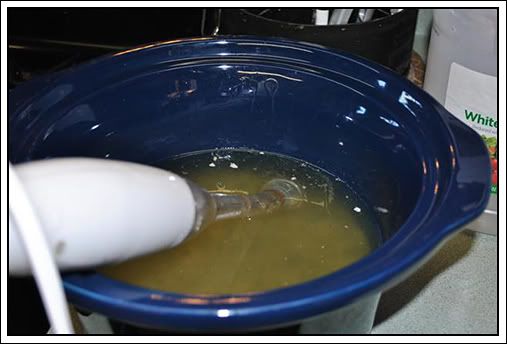 With your goggles and gloves still on, pour your lye solution into your oils.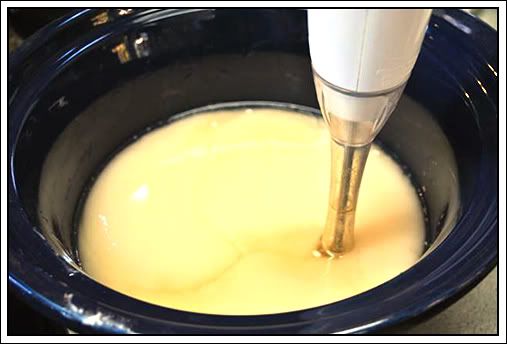 This will start to turn an opaque color as soon as you start to blend. I pulse my blender on and off while blending. It may take a few minutes but your mixture will start to thicken like pudding. You are wanting to bring your soap to trace. Trace has been reached when you can lift the mixer (turned off) and drizzle some on top of the mixture and it stays for a few seconds. Add your color and fragrance, mix this in well and pour into your mold.

I was working with making a color blend which takes a couple more steps and when I added my fragrance (Honey Almond) it caused my soap to trace and thicken very quickly so I was working super fast at getting it mixed, swirled and poured into the mold before it got too hard so I don't have any pics from here until it is in the mold.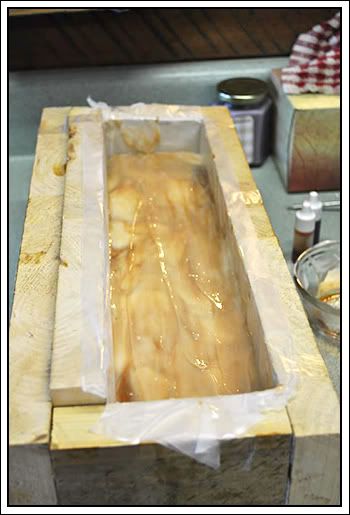 Bang the mold on your counter a few times to make sure all the bubbles are out and it's settled into the mold well.
Cover with cardboard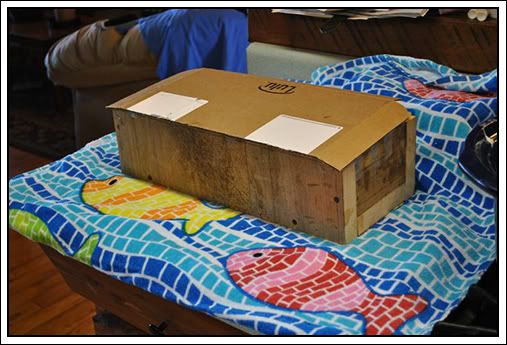 and wrap in towels.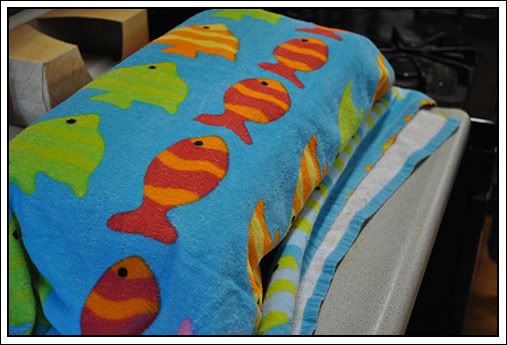 The mixture will go through saponification over the next 18 - 24 hours. It will heat up and then return to room temperature.
When at room temperature, unmold and slice. Place on a rack for curing for about 4 weeks.
Here's a photo of my first swirl soap I made last week. This is lavender scented.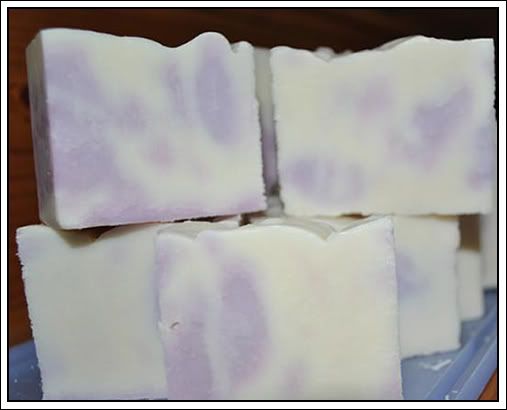 If I have learned anything about soap-making, it's that it gets easier and you will want to try new recipes/fragrances/colors and additives.
If you are looking for a vegan soap you can change any of the oils/fats above but make sure to run them through a lye calculator to get your exact measurements before mixing.
I use the lye calculator at Bramble Berry.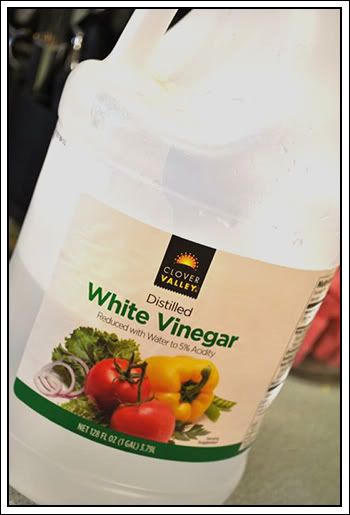 Keep some vinegar handy for neutralizing any lye spills and for wiping down your counters after making soap.
You can find lots of recipes on the web to make homemade soap using all different kinds of oil combinations.
My soap is saponifying on the counter as I type. I'll post tomorrow with pics of the unmolded loaf! If you have any questions or suggestions, please post them. Join us on Facebook at our Soap-making for Beginners page to find lots of links to great soap-making pages.