As I was flipping through an old album last night I saw this. I couldn't believe it was right there after doing my lard post yesterday. I just had to share it. This is my Mamaw standing next to the lard kettle that they made lard in every Fall/Winter. It stayed flipped over like that until time to use it. I can also remember her making lye soap in the kitchen and saying, "Stand back child this stuff might burn you!" I now realize she was mixing her lye at the time without goggles or gloves.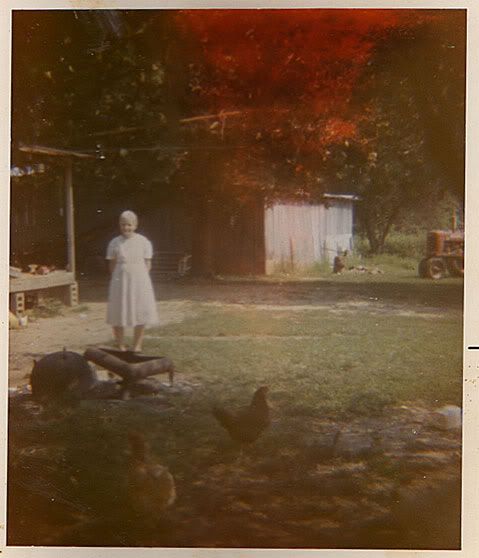 I loved this woman so much! She was my best friend. She kept me while my mom and dad worked during the week. She taught me to make homemade biscuits and to scramble eggs on a little wood stove before I was old enough to go to school. My love for animals came from my Mamaw. She had chickens, guineas, turkeys, cats, dogs, pigs, cows and goats. She sewed little clothes for my Barbie dolls and we dressed the cats up in them. And when I spent the night with her, she would tell me story after story until I fell asleep.

My heart shattered into a million pieces when she passed away. I was 10-years old, I had never lost anyone close to me and remembering that sadness still brings tears to my eyes, but I know she would be proud that I garden, can, raise animals and hang my clothes on the line to dry and that I am so often reminded of her in my daily life.