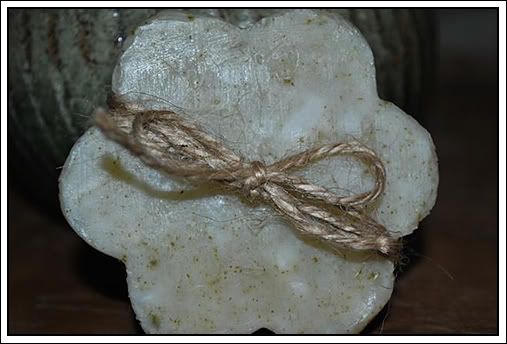 ROSEMARY SOAP


Crisco — 16 ounces
Lard — 10.56 ounces
Coconut oil — 5.44 ounces
Distilled water— 12.16 ounces
Lye — 4.455 ounces
1 Tbsp. ground rosemary (optional)
Rosemary essential oil

I used the hot process for this soap. I loved the color of it BEFORE I added the ground rosemary. It was a beautiful creamy light beige. The rosemary gave it a brownish/green tint. The ground rosemary is optional since you are using the essential oil. It's up to you!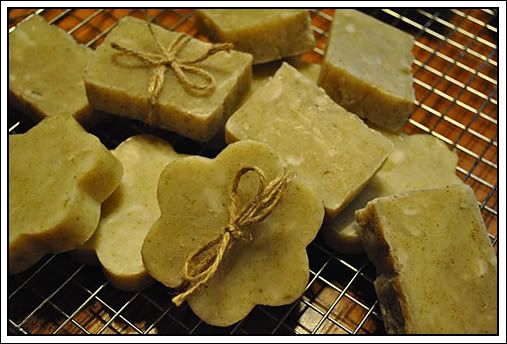 I used the Pampered Chef scalloped baking tube to make these flower-shaped soap. I also have the star and heart. I sprayed the tube really well with vegetable oil. You will need a thick piece of wax paper between the bottom and the cap that fits the bottom. If not, the soap will leak out when you're banging it on your counter to get the air bubbles out. I know this for a fact! When you're ready to remove the soap from the tube, stick it in the freezer for about 10 minutes. Use your vegetable spray can to push the soap out of the baking tube. It may take a little muscle to get it started but then it comes right out.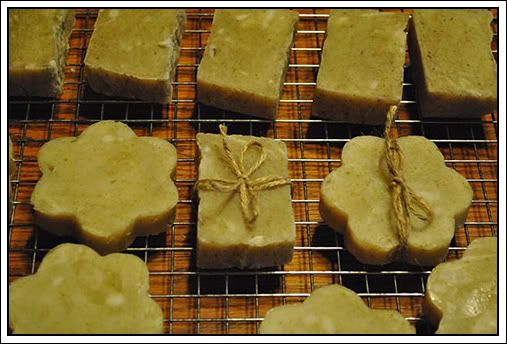 I still love the rustic look of using a simple old cardboard box as a mold as well. Anyone else a newbie at soap-making? Don't forget about the new Facebook Soap-making for Beginner's page!
The rosemary recipe makes this much soap...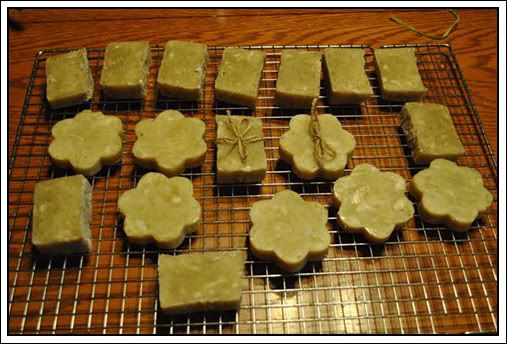 This recipe is adapted from Suzanne's Milk and Basil Soap recipe at Chickens in the Road.
Thank you Suzanne!