If your mind went in the gutter, please remove it now! :)

Ever wonder what to do with your homemade or even bought soap scraps? Make soap balls! They looks so cute on your bathroom counter in a little basket. Just grab one and wash your hands. I made these yesterday using my scraps from making soap and a bar of plain old homemade lye soap I bought at the Amish variety store. You can use all scraps, I just didn't have enough.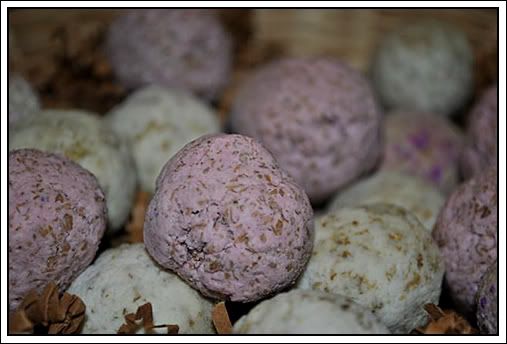 Grate your soap scraps so they are in small pieces. You will need about a cup full. Put in a microwave safe bowl. Add 1/8 to 1/4 cup of water and stir. You don't want it runny but enough to soften the soap pieces. Place in microwave for about a minute, stirring occasionally until soap is melted.
This ensures that all soap is melted and additives get mixed well especially if you are adding color. (Please see addendum for alternate ways to soften your soap).
Add fragrance, color, ground oatmeal, whatever additives you want and stir. If it's too dry add a tiny bit more water. Let sit until the soap starts to cool and you can roll it into balls. Place on wax paper to harden. Make sure your kids know it's soap, not candy because it looks good enough to eat. Let them sit for a couple of days or longer to dry out some (or stick them in your dehydrator for an hour like I did!)



Editing to add:


After doing some more research on making soap balls, it is suggested that you use similar colors and similar scents for your soap balls so you don't end up with ugly colored soap or some weird perfume-like smell (or) buy plain white bars of soap and add your own additives to your soap balls.

I have also found many tutorials that skip the microwave step all together and I will definitely be trying this method as well. Grate your soap, add about a tablespoon of water and let sit for 15 minutes to soften. Add your scent, color and additives if you want to add them (or leave the soap as is). You may need to add more water if too dry or wait a little longer if too wet to get soap to ball-forming consistency. Roll into balls, put on a wax paper-lined cookie sheet. Allow soap balls to dry. This could take up to 2 weeks but generally takes about 2 days. Reshape the balls once a day so they keep their round shape.

So there are your alternatives. Either way you have soap balls!
Have fun making them!