We picked apples again this morning and my little helper peeled and peeled and peeled. He loves using my Pampered Chef apple peeler. He makes tractor sounds while he's turning the handle.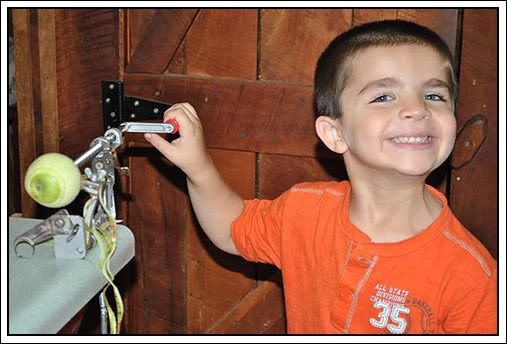 We canned a few jars of apple slices in a sugar water syrup. These are great for making fried apples.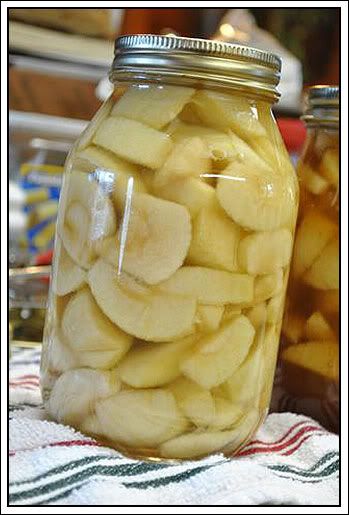 But my BIG PROJECT of the day was canning homemade apple pie filling for the first time. I found a few different recipes online and then took a look at my apple pie recipe and did some modifications...
Here's what I came up with.
Peel apples and cut into pie-sized slices. I let mine sit in a big bowl of water with some lemon juice added to keep them from turning brown. You should do enough to fill 7 quart jars packed tightly.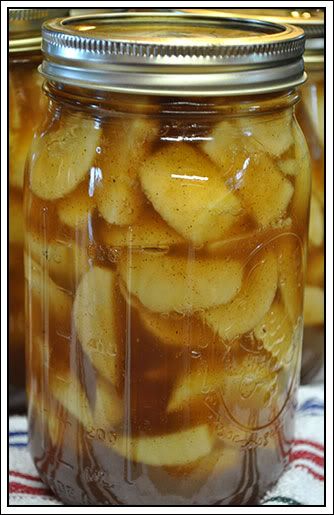 Canned Apple Pie Filling

6 - 8 pounds of apples
2 1/2 cups sugar
2 1/2 cups brown sugar
1 cup regular clear gel (not instant clear gel)
2 Tbsp. vinegar
1 Tbsp. cinnamon
1/4 tsp. nutmeg
1 tsp. salt
5 cups water
5 cups apple juice

Mix sugar, brown sugar, clear gel, cinnamon, nutmeg and salt together in a bowl. Put vinegar, apple juice (I used some I had juiced with the steam juicer earlier but bought is fine too) and water in a large pot on medium heat. As liquid begins to warm pour sugar mixture in stirring WELL to get the clear gel dissolve. I even used my hand mixer for this so it didn't clump. Heat mixture until bubbly, thick and hot. Pack apples into hot jars tightly. I was afraid the thick filling wouldn't get between the apples well if I packed them too tight but that's not a problem so pack them in there. You can tell I have a little space in the bottom of my jars that could have been filled.

Ladle the hot filling into the jars of apples. Using a wooden or plastic utensil, poke around in your apples to release the air bubbles and to help the filling get down to the bottom and in between all the apples. Finish filling each jar with additional filling leaving at least 3/4-inch head space. Filling will expand a bit during processing. Adjust hot lid and bands and process in boiling water bath for 20 minutes.

I had a little of the mixture left over and my boys LOVED it with fresh apple slices. Might have to can some half pints of this as apple dip!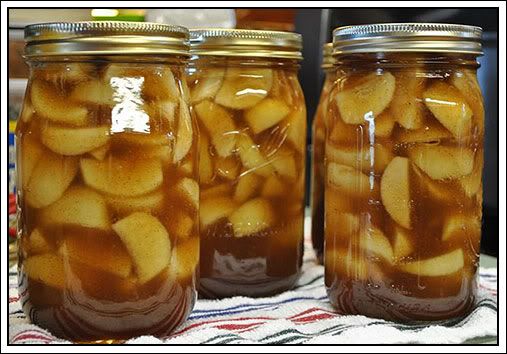 So go can some apple pie filling and this winter when the snow is falling outside, grab a jar, make a homemade pie crust and ENJOY the smell and taste of warm apple pie!