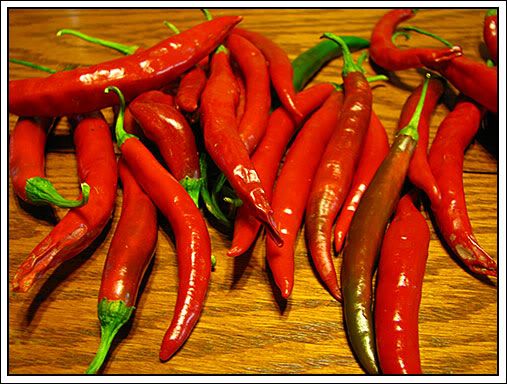 I think I'm going to live now! I am recovering from the worst summer cold I have ever had! It started as a sore throat Friday night and by Saturday morning it was a full blown head cold then moved into my chest. If you know me when I say I haven't wanted or had a cup of coffee since Friday then you know I have been SICK!! I know I'm getting better because I'm drinking my first cup this afternoon.

Shannon, your magazine is ordered. You should receive the first one in 4 to 6 weeks. I hope you enjoy it. That give away was so much fun, I think I'll have another one soon!

It is so hot here right now. Here's the latest post from our weatherman, Kyle, a few minutes ago.

WPSD-TV It's a new weather record! The high temperature at the Paducah National Weather Service made it to 104º this afternoon. This ties the record high temperature for the date. At 4 PM, temperatures range from 98º to 102º, with heat index values of 113º to 123º! -Kyle
The poor chickens are so hot right now. I took a fan to the barn for them this morning and watered down a spot of dirt for them to wallow in and they hopped right in it. The goats are hanging out in the shade and the dogs run outside, use the bathroom and run right back in. Tomorrow is supposed to be the same. I think the only thing thriving in this heat are the hot peppers!

There's a few rumbles of thunder coming from the East. I'm hoping and praying it brings some much needed rain this way.

While I'm waiting on the rain, I think I'll make some

Homemade Chocolate Ice Cream

1 can Eagle Brand milk
1 gallon chocolate milk
1 lg. container of Cool Whip
1/2 cup sugar

Mix Eagle Brand milk, Cool Whip and sugar in a large bowl and pour into 4-quart ice cream freezer. Fill to fill line with chocolate milk. Stir and follow freezer instructions for making ice cream.