Well my Granny didn't make this, but she would have loved it. If you're a health nut, step away now! If you're dieting...don't look! This one is bad....very bad! I got this recipe from my mom yesterday after eating a piece of this granny cake at her house. It's so easy and I already had everything I needed right in my pantry. I bet you do too!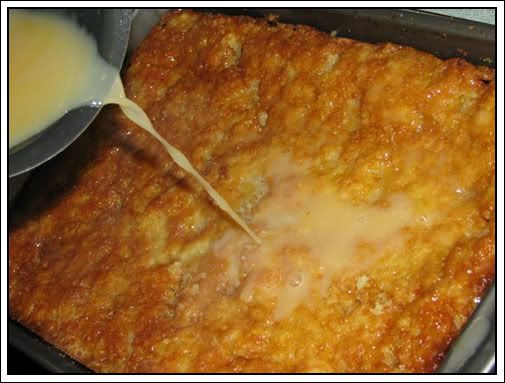 GRANNY CAKE
1 - 20 oz. can crushed pineapple (do not drain)
2 eggs
1 1/2 c. sugar
1 tsp. salt
1 tsp. baking soda
2 c. self-rising flour
Mix together and pour into greased 9 x 13-inch pan.
1 cup brown sugar
1 cup chopped pecans
Mix together and sprinkle on top of batter.
Bake at 350 degrees for 40 minutes.
While cake is baking, mix the following ingredients in saucepan:
1 cup evaporated milk
1 stick margarine
1 1/2 c. sugar
1 tsp. vanilla
Bring to boil, boil for 1 minute stirring constantly. Reduce heat and simmer for a couple more minutes. Stirring occasionally. When cake is done baking, punch holes in top with wooden spoon handle and pour boiled mixture over top while cake is still hot.
I had to eat a piece right away, I couldn't wait, but you are supposed to wait until the cake cools and the "icing" will thicken and make a gooey delicious mixture of cake and icing. This cake is very rich. I like to serve it with vanilla ice cream while it's still a little warm but starting to get gooey!
Enjoy!!!