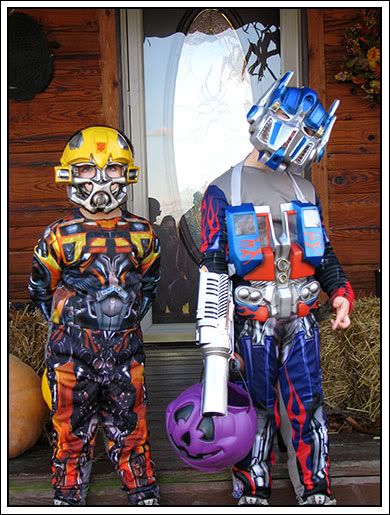 When grandma came to see the boys for Labor Day she brought Halloween costumes. She said she had found them and thought the boys would like them. Like them? Of course they liked them, they were Transformers! Bumble Bee and Optimus Prime were a big hit around here for Halloween.

I was getting shot at in this pic.

and then there was BumbleBee.
Did you know that even transformers pout? I have proof!
I don't even remember what he was pouting about, but the eyes say it all!
We had a great time Trick-Or-Treating and visiting. It's the one time of year we go back to the neighborhood where we lived in town so we have to stand around and talk for awhile at each house.
I hope you all had a safe and fun Halloween.
Don't forget to vote for Suzanne today!
and those of you who won prizes from the Sit Back and Relax Give Away, your packages are going in the mail today! Stop by and let me know when you get them!