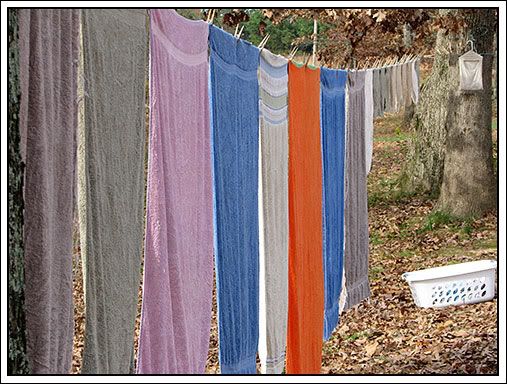 Please ignore my multicolored towels. We go through towels like crazy around here so if I see towels on sale I grab a couple. I really don't care if they match my bathroom decor as long as there is a clean one when I step out of the shower! I do have matching ones that hang in my bathroom that everyone knows are just for looking pretty but under the sink you will find just about every color there is out there!

Not too long ago we decided to do some things to go a little more "green" around here. Putting up a clothes line was one of those things. The first load I hung on the line looked great hanging out there and I had visions of my clothes being like those on the Downey commercials.

I went out with my basket to gather my fresh clothes and they were as stiff as boards! The pants could have walked to the house by themselves and the towels felt like sandpaper!

I started reading to find out what I needed to do to make my clothes a little less board-like. Otherwise, the line drying was going to come a screeching halt. I couldn't stand scratchy clothes.

These are the tips I found that make my clothes and towels feel and smell good straight off the line.


I cut my laundry detergent by about half and add 1/2 to 1 cup of vinegar per wash load of clothes. This helps to break down the laundry detergent that causes that stiff feeling. I find that my clothes are just as clean and smell great plus I save on detergent.
I also give my clothes a good "pop" before I hang them on the line and when I take them off the line. Just grab whatever you take off the line and sort of snap it to loosen it up a bit.

The more wind you have on wash day the softer your clothes will be. The wind whips them around and helps them to dry quicker and softer.
If they need just a little softening, throw them in the dryer for just a few minutes after taking them off the line.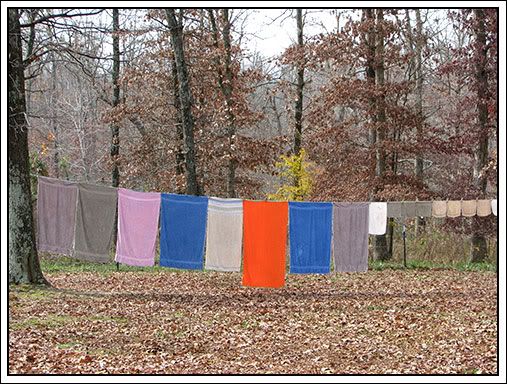 I love line drying my clothes. It's amazing how much you can save on electricity without the dryer running all day plus you get the added benefit of being outside and enjoying the beautiful day!

If you line dry, tell me your tips or tricks.

If you don't line dry but have the room to put up some clotheslines, try it! Mine is attached to two trees in our backyard. Nothing fancy but it works.