There are some things that you always have too many of. One of those things around here is roosters but what did I do today? I bought another rooster! The first thing my husband said when I called and told him was, You did what? Another rooster? We don't need ANOTHER rooster! But I convinced him that this was no ordinary rooster, this was a beautiful rooster, a Buff Orpington rooster. I've never had a Buff Orpington, so of course, he had to come home with me! Here he is!


He's such a pretty boy!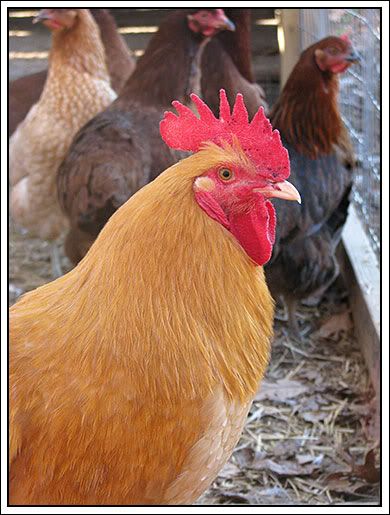 I can't wait to raise some chicks from him and he seems to be very gentle. I hope he stays that way. I don't like mean roosters!


I am still trying to think of a name for him. I'm thinking Pumpkin because he's the right color and it's the right time of the year but he seems too majestic and royal for the name Pumpkin. What do you all think? Any name suggestions? He's a young guy and will get a bit bigger. The hens seem to really like him.

I already had 8 young pullets that should start laying at any time but I wanted a few more so I found 6 today. I was so excited to find what I have always called Fuzzy Faces. After some research I have found that these are the Ameraucana breed.

My grandmother had one of these hens when I was little and I loved that she laid pretty green eggs.


I asked to make sure and the Amish man promised me green eggs!

They had 3 of these fuzzy-faced girls for sale and I bought all three of them plus 3 more pretty ladies that look like triplets.


Here's the little hen party they have going on in the hen house.

They are "adjusting". My pullets are being a bit bossy but I'm sure they will establish a new pecking order soon and all will be peaceful in their little yard again. The older hens took a stroll by and checked out the newbies but didn't seem too interested. As long as they have their own
hen house
..........roost pole,
............................laying boxes,
...............................................feed and water and
...............................................................ROOSTER
then they are happy. They don't ask for much (yeah right!)
I love my chickens! All 27 of them. Now, I better start getting some green eggs soon!