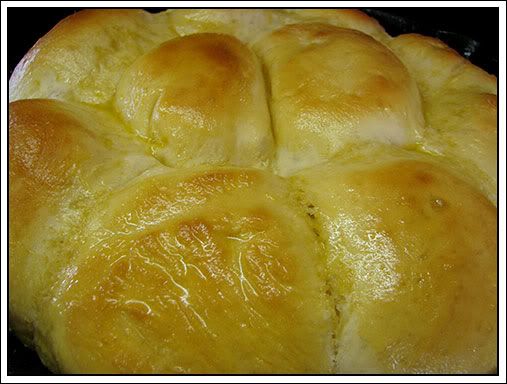 I have made quite a few different breads from sourdough starter recipes but I always come back to the recipe that my mom uses. This bread always comes out of the oven light and wonderful and it has that sourdough taste that I love. It's smells so good and I love to slather a thick slice of it with butter and homemade cherry jam. This can also be made into rolls like the ones above. These went with the pot roast I made for supper.

Here's the recipe for the starter.
3 pkg. yeast
1 cup warm water
3/4 cups sugar
3T. instant potatoes

Dissolve yeast in warm water, let stand 5 minutes.
Add sugar and instant potatoes. Stir well and let stand 8 to 10 hours then refrigerate for 2 to 3 days.

After 2 to 3 days, feed starter again with
3/4 cup sugar
3 T. instant potatoes
1 cup warm water
Let stand again for 8 to 10 hours. Remove 1 cup and bake bread using the following recipe. Return your starter to the refrigerator and begin the 2 - 3 day process again.

The next time you bake bread from this starter you can remove 2 cups and double your baking to 6 loaves. Each time you feed your starter then bake you can use more of your starter to bake more loaves or give starter to your friends so they can bake too.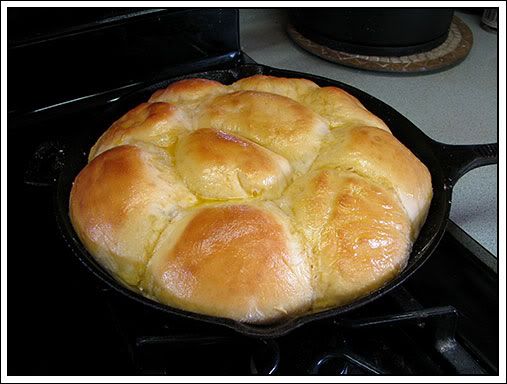 SOURDOUGH BREAD
(recipe makes 3 loaves).
I cut it in half for rolls.
6 cups bread flour
1 cup starter
1/3 c. oil
1/3 c. sugar
1/2 tsp. salt
1 1/2 c. warm water

Mix starter, oil, sugar, salt and warm water. Slowly stir in flour and knead until dough forms ball. Knead a few more times then place in greased bowl. Roll the dough around a bit to get grease on outsides of ball. Cover and let rise until doubled. Add a just a little more flour and knead again. Divide into 3 loaves or into rolls. Place loaves in greased loaf pans or for rolls I like to put them in a greased cast iron skillet. Cover and let rise again for approximately 30 minutes. Bake loaves at 325 degrees on middle oven rack for 30 minutes or until golden brown. Bake rolls at 350 degrees for 20 minutes. Brush the tops with butter before serving.

That looks like a horribly long recipe but it does include both starter and bread. Once your starter is ready, it's easy to bake bread every 3 to 4 days. My mom sells these loaves of bread as fast as she can bake them around the holidays. She usually bakes 12 loaves at a time.