I got tagged by Chicken Momma over at
Hen House Diaries
!
Here's my photo....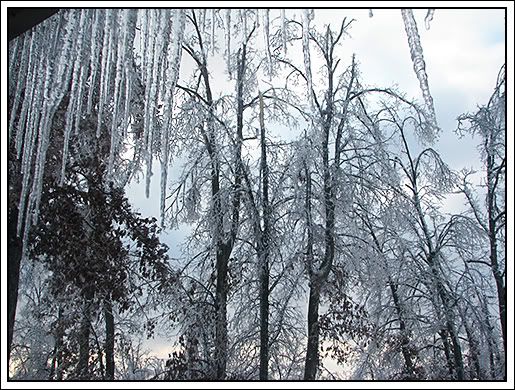 This photo was taken during the Kentucky Ice Storm 2009 back in January. The trees are still trying to recover from it. We got over 2 inches of ice with snow on top and were without power for 16 days. Thank God for generators!
The Rules:
1) Go to your photo files…Select the 6th photo folder
2) Select the 6th photo in that folder
3) Post that photo along with the story behind it.
4) Then, challenge 5 blog friends to do the same!
I tag...
1.
Manitoba Musings
2.
The Secret Flower Garden
3.
Schmoopywood
4.
Prairie Flower Farm
5.
Tiny Farm Blog
Don't forget about my
Patriotic Give Away
. You still have time to enter and tell your friends about it!