What did I do with all those cherries my Dad picked for me while I was gone to Florida? Made jam of course!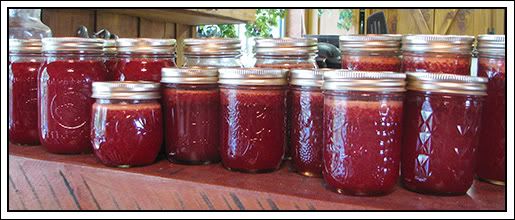 The boys love this cherry jam on toast or peanut butter and jelly (technically it's PB & Jam but they don't care). I have a weakness for it on my moms homemade sour dough bread with way too much butter. I ended up with 14 pints before I ran out of Certo. I also froze several quarts for pies, cobblers and homemade ice cream...yummm!
Here's the recipe I use for making this jam (it's not in my cookbook but it will be in the next one!)
Cherry Jam
4 cups of cherries
7 cups sugar
1/2 T. butter or margarine (optional)
2 pouches of Certo
Wash, stem and pit your cherries. Place them in a food processor and liquify/pulse/chop until they are mostly liquid. You will need 4 cups of this. Place in a large saucepan, add sugar, mix well. Add butter (this prevents the white foamy stuff from forming on top of your jam.) Bring to a rolling boil and cook for 1 full minute, stirring constantly. Remove from heat, stir in 2 pouches of Certo. Stir and skim off any floating fruit for 5 minutes. Pour into hot, sterilized jar. Wipe any drips from top edge of jars and top with hot lids and bands. Sit aside to let cool and seal.
If you have access to cherries, go for it!