and now I have something else to keep me busy!



This is just the first days completed projects!
Some of these are remelts from left over wax in the bottom of the containers I have been saving for making my own candles...



Some are from container wax (now my favorite because it has that solid color not a waxy look like the paraffin). Some are paraffin wax (second favorite) and soy wax (not so sure I like it).



This pineapple smells so good!
This one below has embedded pink hearts but it didn't quite turn out the way I wanted it to. I am going to have to work on the embedded part.



I also made these cute little candle melts. I am loving the little blue bears! They have a wild berry scent and smell so good! I did hearts and stars with my silicone molds.



I also did Mulberry, Sugar Cookie, Hazel Nut and Fresh Rain. I LOVE these little fat Mason jars for candles!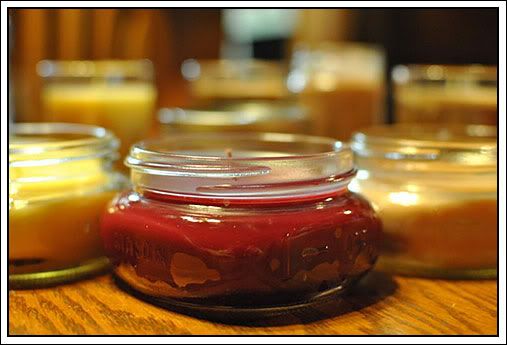 Candle-making is as addictive as soap-making and it's easy.

You need:

Wax
Wicks
Containers
Pouring pot for melting wax

Tips:

I used a hot glue gun to stick the wicks in the bottom of the containers and used a clothespin to hold the wick upright while pouring my wax.

You can use a double boiler but I just used a sauce pan, put three metal jar rings in the bottom, added water and sat my pouring pot on top of the rings. These rings hold the pouring pot off the bottom of the saucepan while your wax melts.

Heat your containers before pouring in your wax. This helps the wax adhere to the sides of the containers so you don't have those bubbly spots.

Your candles may have a sunken spot after cooling. You can reheat leftover wax and top the candles off or hit them with a heat gun for a few seconds and the tops will melt and level out.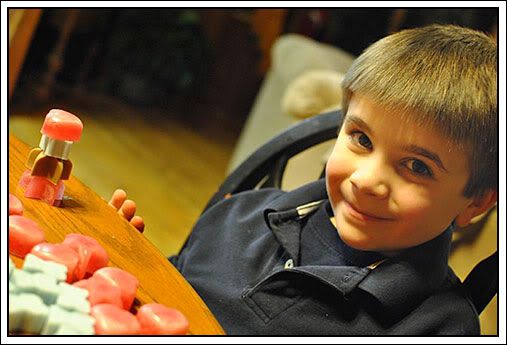 Jake wants to try out some of the candle melts!

Tomorrow I'll be posting a new recipe I got from my sister-in-law....
Candy Apple Pie....YUM!