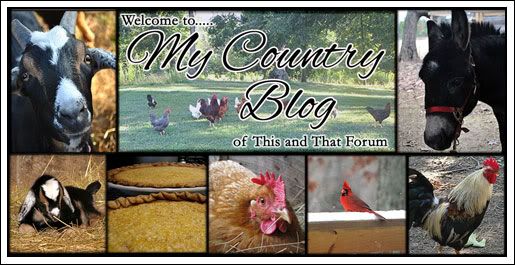 I decided awhile back that if and when I reached 250 followers I would start a forum to go along with my blog. Plus it's a new year...time to add on! I have been receiving several emails with questions and questions are coming up in the comments that I would love to be able to answer in a way that other readers can see as well. What better way to do that than a forum for discussing all things "country"? You will either have to register and then log in to post or using the little blue G (for Google) or the F (for Facebook) etc. and link your accounts but it will be worth the time it takes, I promise!!

I have several categories and boards already up and there is a suggestion board. If there is something you would like added please post it on the Board Suggestions board and I will gladly add it. It may not be a terribly busy place but it will be a place to post questions and hopefully get the answers you are looking for and a place to share stories and photos!

So check it out!

My Country Blog Forum

Please let me know if you have any questions or problems getting in!

I will be adding a direct link back to the blog from the forum as soon as I get a small banner made for it and a forum link will be added in the menu bar here at the top soon.

I'll be posting about my soapy play day tomorrow! I made orange soap and honey and oatmeal goat milk soap!