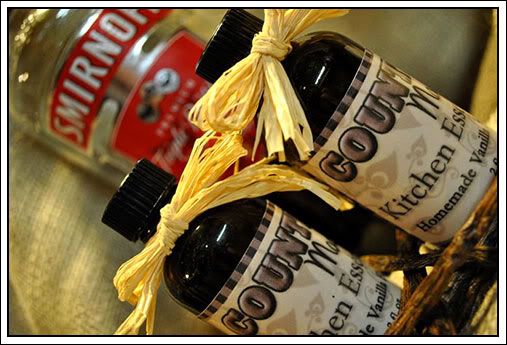 Make your own extract and bottle it up in cute little bottles. I picked up a big bottle of vodka a few months ago, ordered some Madagascar vanilla beans through eBay (Grade B vanilla beans make the best extract) and now I have wonderful homemade vanilla extract!

All you need is:
1 large bottle of vodka
10 - 12 vanilla beans

Cut your vanilla beans long ways down the middle. Scrape the beans loose from the pods and add the scrapings to your bottle of vodka. Higher quality vodka makes a better extract. You may have to remove a bit of the vodka to accommodate for the beans and pods. Chop up the pods into 1 to 2-inch pieces and add them to the vodka as well. Place your bottle in a dark pantry or cabinet. Shake the bottle once a day for about a week then every few days just to keep it all mixed up. After awhile I just shake mine when I notice it in the cabinet. You can use it after a month but the longer it sits the stronger (and better) your extract will be.

I use a paper towel or very thin cloth and a small funnel to strain my extract into the smaller bottles.

I have been using from my bottle to bake and make the little gift bottles above. When you have used 1/3 or so of the bottle, refill it with vodka to keep your extract going. If your beans start to lose their vanilla smell, scrape, chop and add more. This bottle can be refilled occasionally and last for years to use in your own baking or make a few big bottles to divide and give as gifts around the holidays!

These little bottles are even cuter with a recipe card tied to them!