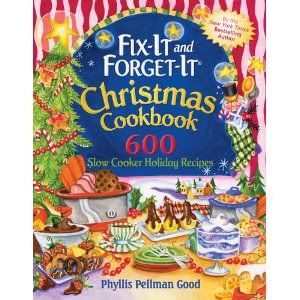 Fix-it and Forget-it Christmas Cookbook: 600 Slow Cooker Holiday Recipes


I love these Fix-It-And-Forget-It Cookbooks and I found a new Christmas one! I'm ordering one for me AND ONE FOR ONE OF YOU!! You get to pick whether you want it in hardback or paperback!

All you have to do is follow my blog AND tell me what you want for Christmas this year!!!

I want a new desk for my office and a new lens and speedlight for my camera. Oh wait, I think I have already asked for a jerky maker and didn't I get that food processor as an early Christmas gift?? SSShhhhhh!!!!

I'm going to try something a little different this time. I usually don't do second entries, third entries....you know how it goes...but this time I am! If you want to be entered a second, third, fourth, etc. time, refer a friend because I love new friends for the HOLIDAYS!

Just send them a link to my blog and if they follow me and enter the give away, have them put your username in their post and I'll give you as many entries as friends that show up!!

Contest ends on Wednesday, December 8, 2010 at 9:00 a.m. Central time and winner will me announced shortly after!!!