I had a thousand things on my list. I got up early and took Biscuit to the vet to get him neutered. He's back home and doing great. He and Bessie missed each other terribly. I went by the doctor's office and had my blood drawn to check my cholesterol and the levels are looking good. All of this was done by 8:00 this morning (on Thursday - it's late so you may not read this until Friday). I had it in my head that I was going to come home and do some in-depth cleaning on the house, my MT work, put something on for supper and get all caught up with everything that needed to be done including laundry and dishes. Jake was at school and Luke was with his buddies at Mamaw Shirlene's house so the day was mine. I headed home to do all those things that needed to be done and then........I drove past my mom and dad's house. Mom was at work and Dad was heading in from feeding the horses. I can't drive by and see my Dad outside and not stop and see him, even if he does only live 1.3 miles down the road. I pulled in, rolled the window down, opened my mouth to say "Hi" but instead I said, "Hey, you wanna go fishing?" There went my plans! It was a gloriously sunny day, the temp was already up to 57 this morning and I felt like spending the day with my Dad on the pond bank. He grinned and said "Yep."

We loaded up all the fishing gear, climbed on the 4-wheeler and headed for the pond.

My Dad is the most patient man I know. He sat right here ALL day and I sat right beside him.


And we talked and laughed and ate snacks from the cooler and talked and laughed some more.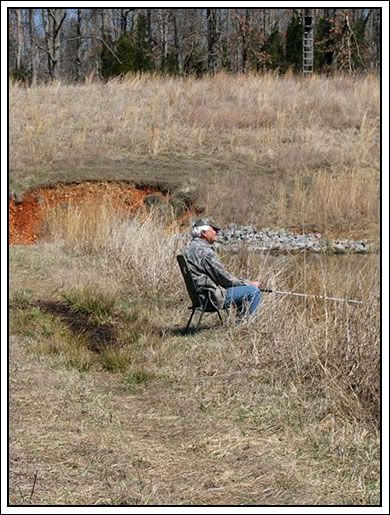 And you know what? All we caught was one little bitty bass, but we had such a great time!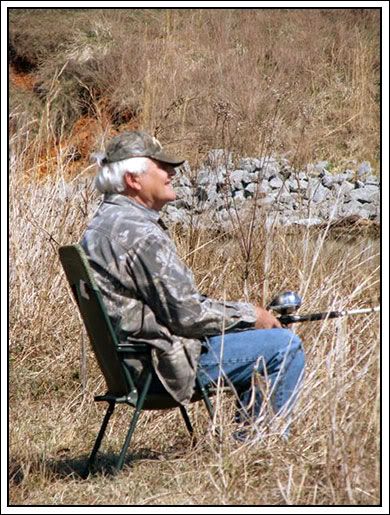 Of course, mom had to check her Farmer's Almanac Calender and inform us that we picked a POOR fishing day! She lives by her almanac calender!

Oh and I did stop by the store this morning on my way home and I saw these....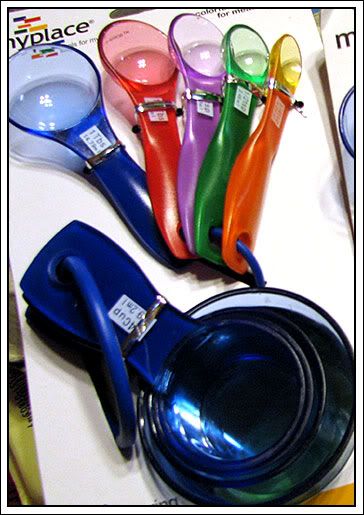 Aren't they the cutest measuring cups and spoons? I am addicted to measuring devices, I have an entire cabinet drawer full of different ones and several larger ones on shelves around my kitchen but I didn't have any in these spring colors! I had to have them! And I thought you had to have them too. So I bought an extra set just for one of you!
See....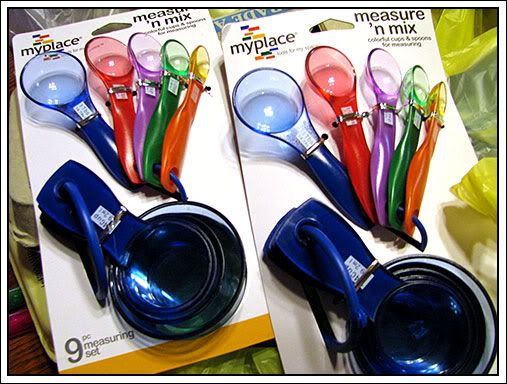 Just leave me a comment and you're entered. I'll draw a name on Monday morning! Good luck! And do something unexpected......throw all your plans out the window and spend the entire day with someone you love. You won't regret it, I promise!