I haven't ran away, I promise! My husband and I both took the week off to get some things done around here before the holidays. We decided to get some Christmas shopping done today but as soon as we got started the school called me. Jake was sick with a high temp, throat hurting and a headache. We hurried home to pick him up. He's my "high fever" child. I'll probably be up most of the night keeping his temp down. Just wanted to check in and say Hi!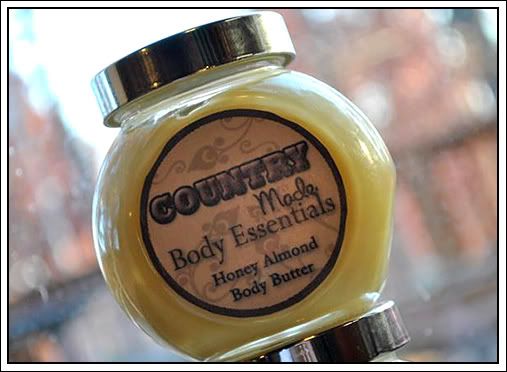 I'll leave you with a new recipe for moisturizing body butter. It's easy to make and smells wonderful!

Honey Almond Body Butter
1 oz. coconut oil
1 oz. 100% cocoa butter
1/2 Tbs. beeswax (optional)
Oil from 1 vitamin E capsule
Honey Almond Fragrance oil (Hobby Lobby)

Grate the cocoa butter and beeswax.
The beeswax will make the mixture thicker. Without it the mixture is very soft, almost like lotion at room temp. It's a matter of preference how you like it. I can't decide so I have a jar of both.
Melt cocoa butter (and beeswax if used) together. You can microwave it or use a double boiler. I use a canning jar sitting in a saucepan of water on medium heat (don't let the water boil). Remove from heat and add vitamin E oil and coconut oil. Mix well. Let cool slightly and add fragrance oil. Mix again and pour into container. Mixture with thicken. This is wonderful on dry hands and feet. It will feel a little oily when you first put it on but quickly absorbs into the skin and leaves it feeling very soft.

Hope you enjoy it!