Want to make one of these cute glass light blocks?


These make great Christmas presents and sell really well. In November and December of 2006 I made and sold over 150 of these. I even made personalized ones as night lights with names like the Sylvana and Wyatt ones above and blocks in memory of loved ones with photos and poems, etc. I still get calls from time to time from people wanting them. I have an order for two for Christmas right now.

What you need: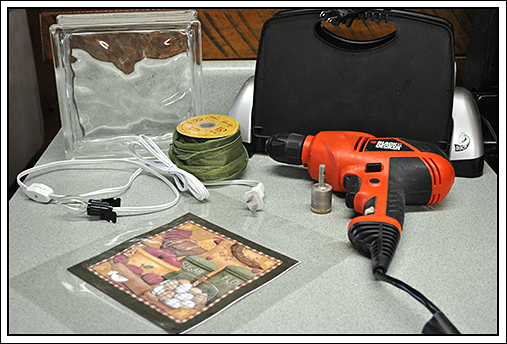 *Glass block from Lowe's, Home Depot, etc.
*Drill
*1-inch diamond drill bit (these are made for glass)
*Graphic for printing (I use PCCrafter for the graphics on all the above blocks)
*Full sheet sticker label
*Laminator and laminating sleeve
*Ribbon
*6-foot light cord and bulb
*Scissors
*Hot glue gun (oops, forgot to put the hot glue gun and scissors in the pic)

You will need to print your graphics for each side of your block on a full sheet sticker label for the 8 x 8 block like I am using in this tutorial. Cut out your graphic with scissors. You can get more than one on a sheet for the 6 x8 and 4 x 8 blocks. I use the highest quality for printing for mine.
Here are the exact measurements for printing your graphics to fit each size block:


8 x 8 block - 6.74 x 6.74 inches.
6 x 8 rectangular blocks - 4.79 x 6.74 inches.
4 x 8 rectangular blocks - 6.74 x 2.8 inches

Turn your block up on its side and mark the middle like in the pic below.
Put a little water on your block where you are going to drill.

Drill the hole in the bottom of your block with a 1-inch diamond bit for glass. I ordered mine off eBay. I am using a regular drill today but when I was making lots of these I borrowed my brother-in-laws drill press.

I do this either outside or in the sink so I can wash away the glass dust. Keep adding just a little water around your bit as you drill. If the block gets too hot it will crack.

Once the hole is drilled, dump the glass out from the inside of your block and wash your block with water inside and out. Shake as much water out of the block as you can and set it to the side to dry. I stuff a paper towel in the hole to help soak up what water is left inside. While the block is drying, laminate your graphics.

I used the same graphic for both sides on this block but you can use different graphics, a photo, a poem or even family names on one side and a graphic on the other. It's up to you!

Before peeling the paper off the back of your graphics, place them back to back with sticky paper still on and slip them inside the laminating sleeve. This saves you a laminating sleeve by using one for both graphics. Run this through your laminator, flip it over and run it through again. When you trim around the very edges of your graphic and take them apart, you will have two graphics with the fronts laminated and the backs ready to peel.



Run each of these through the laminator one or two more times just to make sure the laminate is on your graphic really well.

Grab your block and lay it flat. Take one graphic and peel the backing off. Holding it almost at the top on each side place your top two corners onto the block.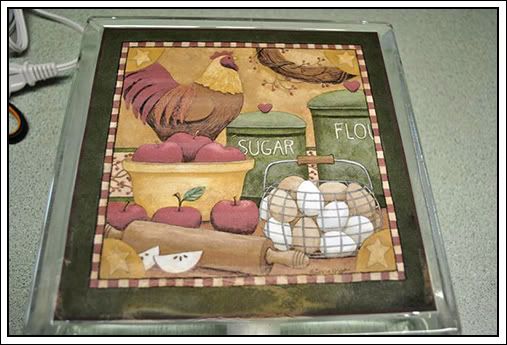 You want your graphic to fit inside the sunken area and have a little "frame" around the edge. Press the graphic down along the top and then rub it down flat, top to bottom. Once stuck these are not going to come off easily or without tearing your graphic up so make sure you get it where you want it.

Flip your block over and put the graphic on the other side.

You can leave your block like this but I like my blocks with ribbons. These are easy to put on.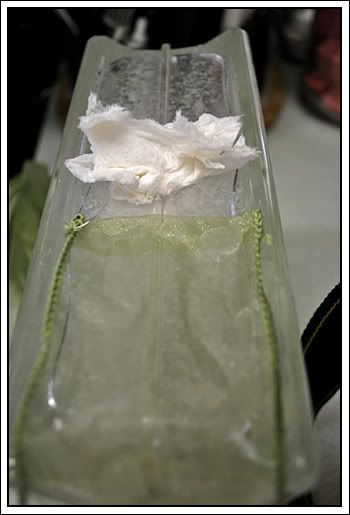 Turn your block upside down and put hot glue in a line across the block beside the hole. Fold the edge of your ribbon over and start it here.
Once stuck, flip the block over so the top is up...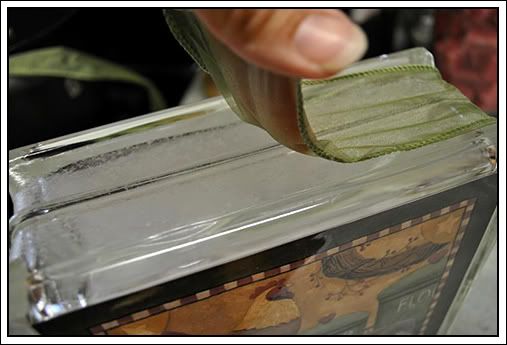 Start gluing your ribbon on, make a "bunny ear" and glue it down again.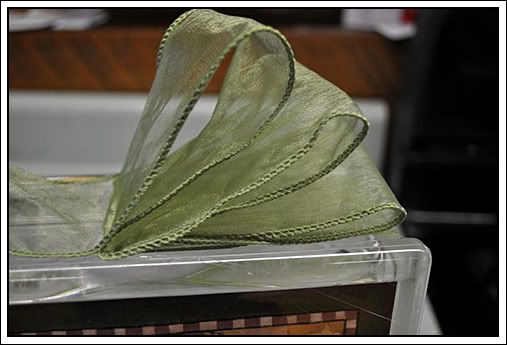 You want 5 "bunny ears" centered at the top of the block.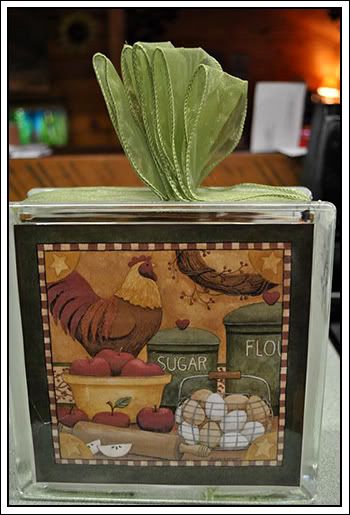 Flip the block over and take the ribbon to the bottom and glue it next to the hole.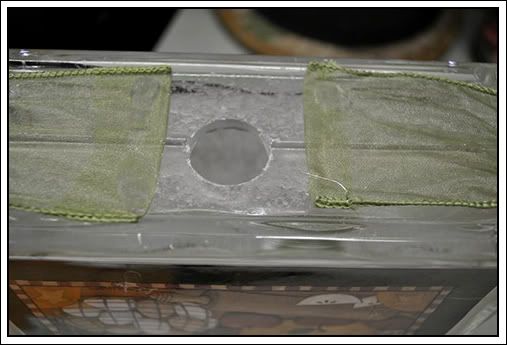 Flip the block over and put your fingers inside the first two ears and twist in opposite directions. This opens up the ribbon and shapes it.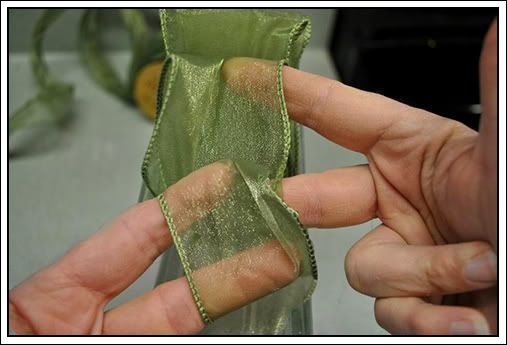 Do each ear this way until you have your ribbon looking the way you want it.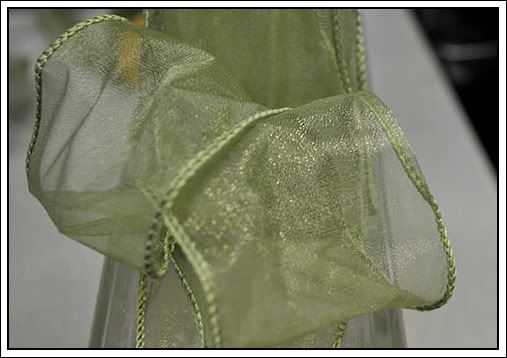 You can use a little hot glue to keep it in the right place so it looks good on both sides.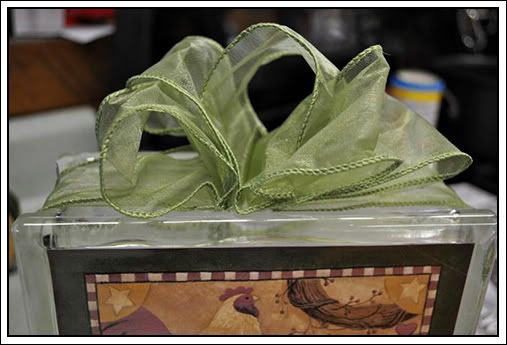 I use this light cord and bulb.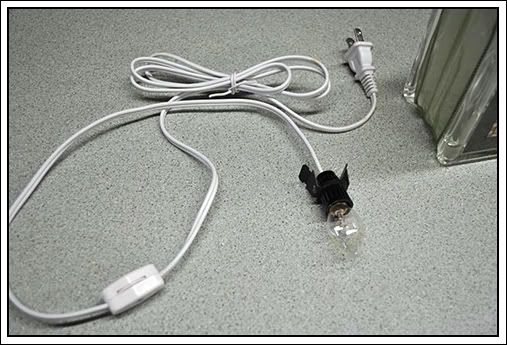 I like it better than the string of Christmas lights because you can turn it on and off without unplugging it and you can change the bulb if it burns out.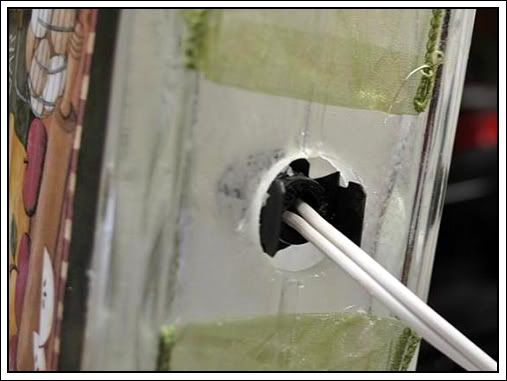 Insert the bulb and turn it so the cord goes to the side. This allows the block to sit flat. At one time I used the little glass globs as legs for my blocks but they are a pain to keep glued on.
There you have it...


A glass light block to give your home a cozy, warm glow through the Holidays or all year long.
Any questions? Just ask!
Tip from reader Jules: DO NOT USE Lexan or plastic blocks, when these get heated the smoke is toxic.