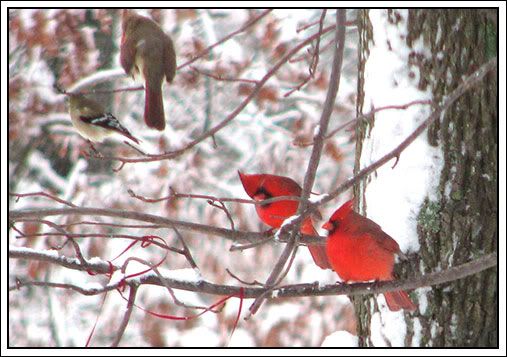 Putting up all this produce for the winters months got me to thinking about those cold winter days and watching the birds at the feeder, snuggling on the couch with a good magazine and drinking a cup of hot cocoa. The temp got up to 101 here today so it's not easy to imagine that scene right now but it will be here before we know it. Some of my favorite magazines are from Reiman Publications. Birds and Blooms, Country Woman and Taste of Home are my three favorites. My give away today is

a years subscription

to one of their magazines. Why? Because I'm ordering mine right now so I'll have plenty of reading material come those cold winter days.

I'll pick a winner next Saturday, July 31st....that gives you a week to comment and send friends this way. You don't have to be a follower but I would love it if you decide to be. Just leave me a comment about what you love to do during the winter months when there's less canning, gardening, farming, etc. taking up all your time.

You can email me with your choice of magazine if you win.
The choices are:
Birds and Blooms
Country
Country Woman
Farm and Ranch Living
Healthy Cooking
Simple and Delicious
Reminisce
Taste of Home

Reiman Publications is not aware of or endorsing this give away. I just like their magazines and want to share with my wonderful readers.

Comments must be in by Saturday, July 31st at 9:00 a.m. Central time. Winner will be announced shortly after! Good luck!