The laundry room has been my biggest money saving room by far in my search for frugality....that's a word, right?? I am going to do a series of posts on what I am doing in my laundry room to save money for....vacations? a new car?? no...just gas for the old car I have....have you been to the pumps lately? Not pretty!

This is post #1 in my Laundry Room Savings series.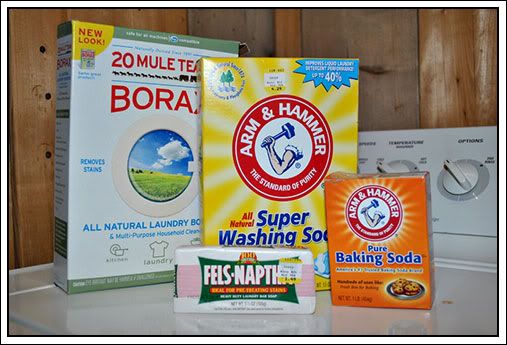 Homemade Laundry Detergent

My "supplier" who sold me homemade laundry detergent at $1.25 a gallon has moved about an hour away so I decided to make my own. It's simple, easy, cheap and works!
Here's the recipe I use:
1/2 bar Fels Naptha Soap ($1.49 per bar)
1/2 cup Super Washing Soda ($4.29 per box)
1/2 cup baking soda ($1 per box)
1 cup Borax ($4.29 per box)
Water

*You can find all of this at your local ACE (True Value) hardware store.*

Use a large stock pot. You will be adding about 8 quarts of water as you go along so use a BIG UN'!

Grate your soap
Mix with 1 1/2 quarts of water over low heat until all soap is dissolved.
Add washing soda, baking soda and borax stirring between each. Add 1 quart of hot water and mix well. Add 6 quarts of cold water, stir and let gel for a few hours.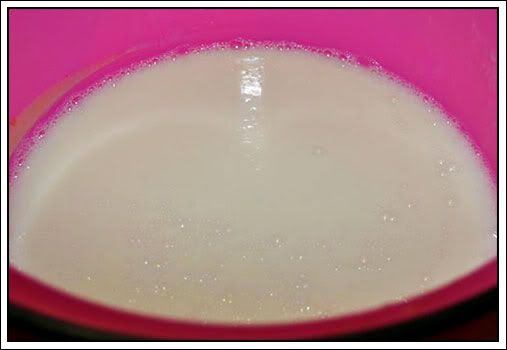 Mine was very clumpy so I used my stick blender I use when making soap to mix it well. I then let it sit for another few hours and got a smooth, creamy looking laundry detergent. I also added a few drops of Fresh Rain essential oil I had for soap to give it a nice smell. I then poured it into a couple of left over laundry detergent bottles I had saved but milk jugs, soda bottles, any plastic container will work. Give your jug a good shake when you go to use it to make sure any of the gel or clumps are mixed well.

I use 1/2 cup of my homemade laundry detergent per load of laundry! Try it! The cost of all the ingredients together is less than the cost of a big bottle of laundry detergent and you have enough to make several batches with just the ingredients above! Try it and let me know what you think! If you already make your own, feel free to share your recipes and methods! I would love to hear them!