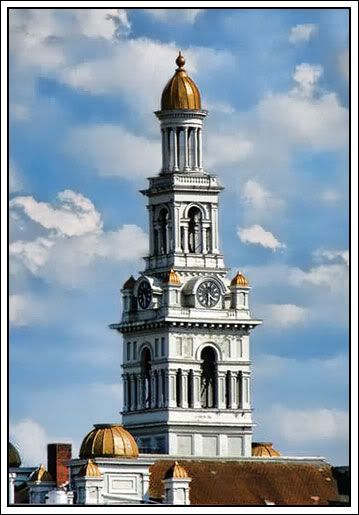 I was taking a photo of this clock tower on the Sevierville, TN courthouse on our way to Maggie Valley, North Carolina during Spring break and my 4-year-old yelled, "Momma, look!!! It's a time castle!"

A little history on this "time castle"....


The Sevier County Courthouse was completed on November 10, 1895 with Kenneth McDonald as the supervising architect. This is the fifth courthouse for Sevier County and was built for a little over $22,000. Limestone came from a nearby quarry and Isaac Dockery, a notable African American brick mason in Sevierville, manufactured the bricks. The centerpiece of the courthouse is the Seth Thomas clock which is located in the 130ft tall tower. This clock cost more than $1,300 and is still in flawless operation today. Several finishing touches were made over the next several months and the first court was held on October 5, 1896.


(Information taken from here.)

I'll be sharing a few different vacation pics during the next week.
Oh and I'm hearing peeps coming from the incubator in the bedroom (a day early)!! My poor husband will be sleeping on the couch tonight if he plans on getting any sleep!